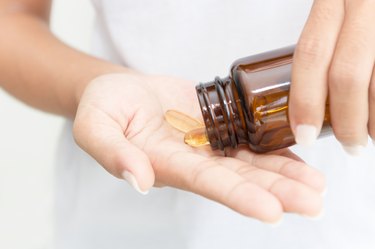 Losing weight is difficult, and anything that can give you an edge is worth considering. Supplements are tempting because they're easy to take and promise big payoffs. Conjugated linoleic acid, or CLA, promises to help you burn fat. Researchers haven't been able to prove that it works, however. Until they do, it's best to spend your dollars on something else.
Conjugated Linoleic Acid
An article from Science Direct states that conjugated linoleic acid is a conjugated fatty acid that typically comes from beef, lamb or dairy. Fatty acids are the product of digested fats. One of the most efficient forms of conjugated linoleic acid is from a brand called Tonalin. It uses CLA from safflower oil, which is extracted from a safflower plant.
CLA Animal Benefits
The health benefits of conjugated linoleic acid are well documented in animals. In mice, CLA was able to slow the growth of cancer cells, according to an article from Beef Research. CLA can also reduce the spread of cancer, also called metastasis.
As if that wasn't enough, the same article presents evidence that CLA can reduce the risk for heart disease in rabbits, mice and hamsters. Taking CLA lowers cholesterol and blood lipid levels, thereby reducing the risk for heart attack or stroke.
The benefit that most people are after when they take CLA is weight loss. More specifically, they want the fat-burning boost that CLA claims to provide. In mice it's particularly effective. CLA can reduce body fat and even increase muscle mass in mice, something many people long for.
CLA Supplementation in Humans
Unfortunately, studies in humans fail to show the same miraculous results as in animals. There's some evidence that CLA can help you burn fat, but there's enough evidence to the contrary to make it seem ineffective. Examine.com, a supplement research review website, claims that the results thus far in humans are lackluster.
Lack of Health Benefits
A 2015 research review published in the Journal of the International Society of Sports Nutrition concluded that CLA supplementation doesn't show any health benefits. After reviewing dozens of studies on the supplement, the researchers concluded that it's better to eat CLA-rich foods, like dairy, if you want to reap the weight-loss benefits.
The researchers also showed that there might be adverse effects of CLA supplementation. They noted that it could raise LDL cholesterol, the bad kind, and lower HDL cholesterol, which is the good kind.
CLA and Body Composition
Supplementing With CLA
There's simply not enough proof that taking a CLA supplement like Tonalin will benefit your health or your physique. It's possible, however, that researchers are missing something. If you're interested in trying it out yourself, you can safely take CLA.
Using Tonalin CLA
It's generally recommended that you take 3,200 to 6,400 milligrams daily, according to Examine.com, and it should be taken with food. Tonalin CLA is one of the most popular forms, since it's cheaper to extract the fatty acid from safflower than from beef or dairy.