The National Sleep Foundation recommends you get between seven and nine hours of quality sleep per night to foster optimal energy, concentration and health. For some people who are following a low-carb diet plan, however, these hours are sometimes hard to achieve. Dieters report occasional trouble falling asleep or may fall asleep easily but have trouble staying in a slumber. This sleeplessness is usually temporary as the body adjusts to a new eating plan. If you're having any of these issues while following a low-carb diet, tweaking some of your dietary habits may foster better sleep.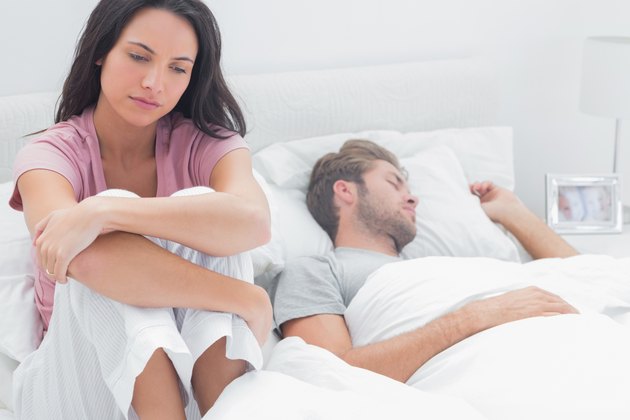 How a Low-Carb Diet Affects Sleep
Restricting carbohydrates could make it hard for you to fall and stay asleep. Many foods you consume on a low-carb diet, such as turkey, nuts and red meat, contain ample amounts of the amino acid tryptophan. While you may hear that eating tryptophan induces sleep, it won't do so without the presence of carbs.
Your brain converts tryptophan into serotonin, a neurotransmitter. Serotonin acts as a brain soother -- it helps ease anxiety and agitation so you can sleep. When serotonin levels are too low, you may experience sleep disturbances.
When you release insulin, you promote the conversion of tryptophan -- an amino acid -- into serotonin. A 2007 study published in the American Journal of Clinical Nutrition demonstrated that high-carbohydrate meals induce sleep more readily that low-carbohydrate meals eaten four hours prior to sleep.
On a low-carb diet, you eat fewer of the foods that lead to big releases of insulin. In the long term, this improves your fasting blood sugar levels, stabilizes your energy and helps you lose weight. In the short term, your body has trouble converting tryptophan to serotonin and sleep suffers.
If you're accustomed to eating large quantities of carbs -- which causes substantial releases of insulin -- a low-carb diet that interferes with insulin production is more likely to interfere with the biochemical process that eventually makes you feel drowsy.
Ease Into a Low-Carb Diet to Sleep Better
Because a drastic shift in your carb intake, and thus insulin levels, could be the reason for your sleeplessness, consider easing into a low-carb plan to allow your body to adjust. Instead of dropping from a standard dietary intake of 225 to 325 grams -- or more -- daily to 50 grams or fewer, gradually trim carbs by 20 to 30 grams per day until you reach your goal intake level. It may slow your weight loss a little bit, but the strategy will also ease the side effects.
If you don't want to ease into low-carb eating and can live with the sleeplessness, your body should adjust after several weeks. Your body will become accustomed to taking in fewer carbs and will not be as reliant on them to induce sleep.
Adjust Your Carb Intake Schedule
You might also ease your sleep woes by shifting when during the day you consume the few carbs allowed on your diet. Keep breakfast and lunch virtually carb-free, by consuming mostly eggs, bacon, leafy vegetables, chicken, fish and meat.
Include a small serving of a high-quality carbohydrate-rich food -- such as 1/2 cup of cooked oatmeal with 12 grams of net carbs or a slice of whole-wheat toast topped with a teaspoon of strawberry jam for about 15 grams of net carbs -- as an afternoon or evening snack. This may be enough carbs to facilitate serotonin production and make you sleepy come bedtime.
Consider Other Causes of Poor Sleep
Your sleep disturbance may coincidentally happen in conjunction with your shift to low-carb eating, but that doesn't mean the diet caused your insomnia. Being under more stress than usual could wreak havoc on your hormones and disrupt sleep. Also notice if you're drinking more coffee or caffeinated drinks to squelch your appetite as you adjust to your new diet plan. An increase in your caffeine intake can certainly interfere with sleep.
Ensure that your sleep environment is conducive to rest. Stop using electronic devices, such as cell phones and computers, an hour or more before you plan to go to sleep. Create a sleep ritual that involves relaxing habits, such as taking a soothing bath or drinking a cup of herbal tea. Keep the temperature of your bedroom on the cool side and make it as dark as possible.