Although there are many sound reasons not to eat after 7:00 p.m., weight loss is not one of them. According to the Weight Control Information Network, when you eat doesn't matter, and snacking in the evening hours does not "cause" weight gain. It's more important to regulate your total calorie intake throughout the day, and eating nothing after a certain time of night can help you do that.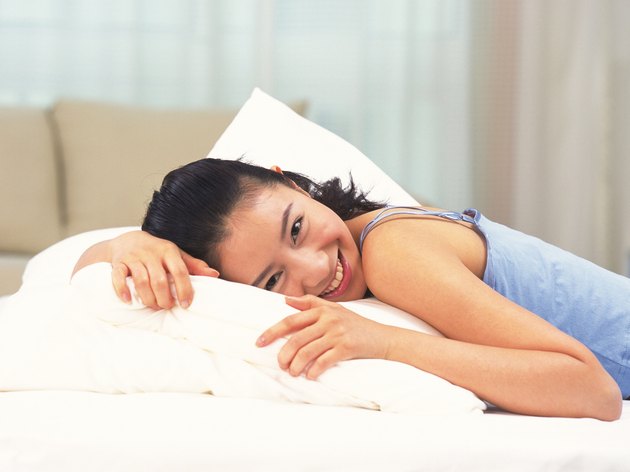 Calorie Intake
If you've already eaten three main meals by the time 7:00 p.m. rolls around, eating anything more will add to your calorie total for the day and may result in you eating past your caloric needs. If you begin to eat more calories than you burn on a consistent basis because you continue to eat into the late hours every night, you will gradually build up a calorie surplus that will show up as weight gain.
Snacking
If you tend to snack or eat dessert after dinner every night, you could be adding a significant amount of calories to your diet without being aware of it, especially if you eat while watching TV or doing something that distracts you from your food. Just 1 cup of rich chocolate ice cream, for example, has more than 375 calories, 25 g sugar and 25 g fat. A 2-oz. serving of salted potato chips has more than 300 calories, 20 g fat and nearly 300 mg sodium.
Hunger
Your level of hunger can also play a role in what you choose to eat and how much you end up eating in the evening and late night hours. "Waiting to eat could lead to consuming larger portion sizes," state the health educators of Columbia University's GoAskAlice.com. In essence, if you're feeling ravenous after a long day, you could binge on food that you don't need to eat and that provides little nutritional value instead of waiting a few hours, going to bed and having a healthy breakfast in the morning.
Circadian Rhythms
There is some limited evidence that eating late at night can directly impact weight gain results. According to 2009 research published in the journal "Obesity," circadian biology researcher Fred W. Turek found that mice that ate only during the "light phase," when they were not normally active, gained significantly more weight through the study period than mice who ate during the "dark phase," even though the two groups ate and expended approximately equal calorie amounts. Turek's study does not directly pertain to humans, however, and it worked exclusively with high-fat diet plans.
Considerations
If you know that you tend to eat a lot in the evening hours, even if you're not very hungry at the time, it can be an effective weight management strategy to set a "cut-off" time for yourself. For more personalized diet advice, speak with your physician.