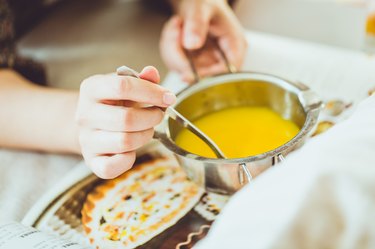 Most cakes start with the same basic ingredients, but flavorings set each recipe apart. Cake gets its flavor from different ingredients including powders like cocoa, liquids like flavored extracts or mix-in ingredients like dried fruit or pieces of chocolate. Whether you make your cake batter from scratch or from a boxed mix, experimenting with flavorings is a simple way to jazz up your cakes. Maintain a balance between wet and dry ingredients so the cake batter doesn't become too runny or too thick.
Step 1
Replace part of the liquid in the recipe with brewed coffee. The coffee flavor goes particularly well with chocolate cake.
Step 2
Add 2 teaspoons of flavored extract to the batter. In addition to traditional vanilla extract, try almond, peppermint, rum, coconut or lemon extract. Another option is to use 1 teaspoon each of two types of extracts. Look for different extract flavors near the vanilla in the baking section of the grocery store.
Step 3
Stir in spices with the cake, including ground cinnamon or nutmeg. Cinnamon pairs well with chocolate. Many sweet spices work well in a white or yellow cake.
Step 4
Add a small box of dry pudding mix for additional flavor. Use any flavor of pudding desired as long as it complements the base cake flavor. For example, try white chocolate pudding with a strawberry cake or butterscotch pudding in a yellow cake.
Step 5
Mix in flavored chips to complement the cake. The options typically include chocolate, butterscotch, peanut butter and white chocolate chips. You may also find specialty flavors like peppermint, cherry or cinnamon.
Step 6
Stir in your favorite type of chopped nuts once the batter is mixed.
Step 7
Add chopped or crushed cookies and candy pieces to the cake batter. Choose one type of mix in several types of candies and cookie pieces.
Step 8
Mix dried fruit in with the cake batter after it is thoroughly mixed. Flaked coconut also works well in cakes.
Things You'll Need
Coffee

Flavored extracts

Ground spices

Pudding mix

Baking chips

Nuts

Cookies

Candy pieces

Dried fruit

Coconut
Tip
Mix and match the flavoring options depending on personal preference.