Proponents claim kombucha, a fermented tea, is a cure-all, but it may not be as good for you as claimed. There are no recommendations as to the amount you should drink a day, and a 2009 case study published in the Journal of Intensive Care Medicine says you shouldn't drink any at all due to the potential for serious, even fatal, side effects. Consult your doctor before adding kombucha tea to your daily routine.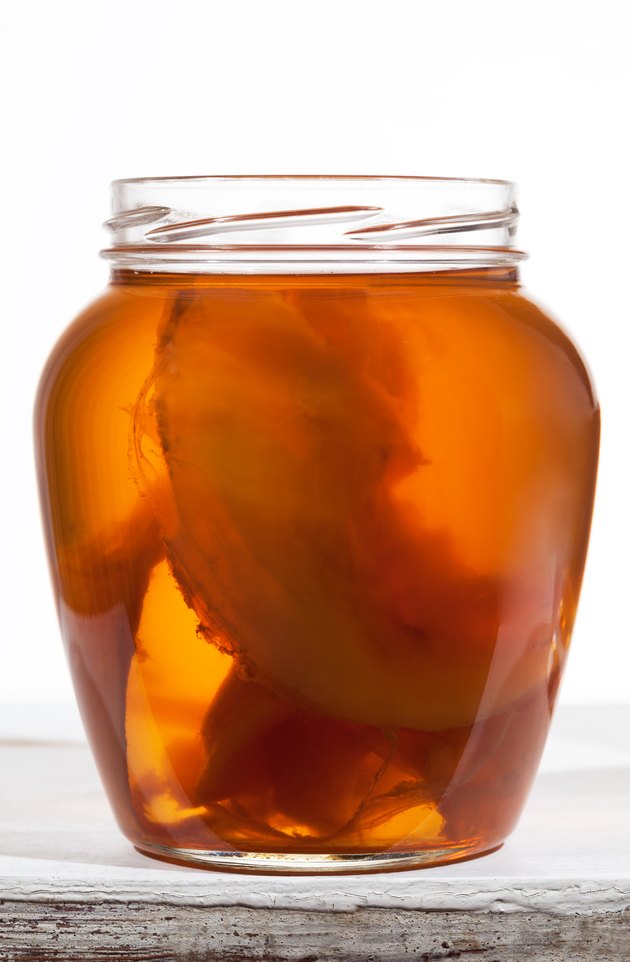 What's in Kombucha?
Kombucha tea is sometimes referred to as tea fungus or Manchurian mushroom, but the tea does not contain any mushrooms. The acidic, slightly carbonated drink is made with sweetened black tea that has been fermented by a combination of yeast and bacteria. The tea is also sometimes made with green tea.
Health Concerns
The case report published in the Journal of Intensive Care Medicine notes that there have been serious and even fatal occurrences in people who drank the fermented tea, including liver failure and severe lactic acidosis. There are also reports of it causing allergic reactions, nausea, vomiting, jaundice, head and neck pain, yeast infections and inflammation. According to the Memorial Sloan Kettering Cancer Center, drinking the tea has also led to mechanic's hands, or dermatomyositis, which is cracking of the skin at the fingertips.
Risk of Contamination
Because of the environment it's grown in, kombucha tea also has the potential to become contaminated with unfriendly yeast or bacteria. Contamination may be more common in teas grown at home or in unsanitary environments than commercial products. Kombucha is purportedly an immune booster; however, you should not drink it if you have a weakened immune system because of the potential risk of consuming a contaminated product.
Healthier Options
Given the lack of evidence of any benefit and the potential for serious adverse effects, you should consult your doctor to discuss whether it's safe for you to drink kombucha tea at all.
Instead, consider drinking regular brewed iced tea such as black tea or green tea. These teas are rich in flavonoids, which are antioxidants that may offer some protection against heart disease. According to the Linus Pauling Institute, epidemiological evidence indicates that drinking 3 cups of tea a day may reduce your risk of having a heart attack. Keep your tea calorie-free by skipping the sugar and flavoring your tea with lemon or lime instead.