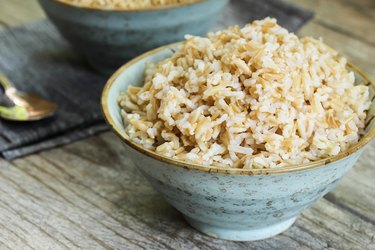 Fermenting rice before cooking it is a common practice across the world. In fact, many cuisines feature dishes made of fermented rice. Idli, an Indian dish of steamed rice cakes, is one example where a batter of fermented rice and lentils is steamed in circular moulds.
Jiuniang is another. Known as sweet fermented rice, jiuniang is a Chinese porridge made by fermenting glutinous rice with yeast. Tapai, an Indonesian style of preparation, was traditionally made by fermenting rice in tapai leaves. Both jiuniang and tapai have an alcoholic kick due to the fermentation.
Fermentation is a process where microorganisms, such as bacteria or yeast, act upon a food, resulting in the formation of organic acids and compounds that change the taste and texture of the food, making it tangy, pungent and sometimes even fizzy. Yogurt, kefir, kimchi, kombucha, sauerkraut, miso and tempeh are some other fermented foods you may recognize.
Benefits of Fermented Rice
Brown rice is a whole grain that is a good source of fiber, potassium, magnesium, phosphorus and folate. However, according to the Harvard T.H. Chan School of Public Health (HSPH), whole grains like brown rice have anti-nutrients like lectins and phytase (phytic acid), which are plant compounds that could interfere with the absorption of minerals like calcium, iron, zinc, phosphorus and magnesium.
These plant compounds are intended to protect the plant from bacterial infections and keep them from being eaten by insects. The HSPH notes that they may also have health benefits for humans, so research to assess how harmful they are and how much people should be consuming is ongoing. In the meantime however, people at risk for mineral deficiencies can take steps to reduce the amount of anti-nutrients they consume.
A study published in the Journal of Food Science and Technology in February 2015 recommends soaking and fermenting rice before cooking it to reduce the amount of anti-nutrients like phytic acid and help increase the bioavailability of the minerals in the rice.
Fermenting Brown Rice
Follow these steps to ferment brown rice. Keep in mind that the fermentation process takes time, so depending on when you want to make the rice, plan backward accordingly.
Soak the rice in water: Put the brown rice in a bowl and add room-temperature water, until the water level is 2 inches above the rice. Let the rice soak. The February 2015 study published in the Journal of Food Science and Technology notes that grains that have been soaked for 12 to 24 hours saw a significant reduction in food inhibitors like phytic acid.
Keep aside some of the water: Drain some of the water from the rice and store it in a container in the fridge. The next time you want to ferment rice, add this water to the pot. The phytase compounds in the water will help break down the phytic acid in the fresh batch of rice, according to the February 2015 study published in the Journal of Food Science and Technology.
Cook the rice: Cook the fermented rice as you normally would, with the exception of cooking time. Brown rice that has been soaked cooks much faster, so keep an eye on it and take it off the heat when it is done, to keep it from getting mushy.