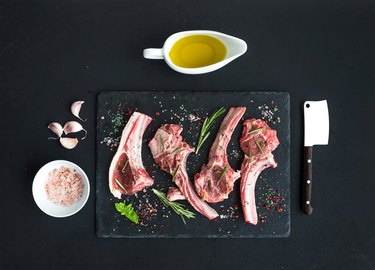 In terms of classic culinary cuisine, few dishes can compare to a perfectly roasted leg of lamb. While critics and gourmets argue about boning and de-boning, the dish is just as delicious with or without the bone. Of course, purists insist on using a semi-boned leg of lamb, arguing that it simply has more flavor. When the lamb is finished cooking, deglaze the roasting pan and serve the red wine au jus along with the lamb.
Leg of Lamb
Step 1
Place the olive oil, garlic, parsley, mint, lemon zest, juice, salt and pepper into a food processor. Blend until the mint and parsley are finely cut.
Step 2
Rub the lamb with the olive oil mixture and let it stand in a roasting pan at room temperature for half an hour.
Step 3
Preheat the oven to 425 degrees Fahrenheit.
Step 4
Place the lamb in the center of the oven and cook for 20 minutes, uncovered.
Step 5
Reduce the temperature to 350 degrees Fahrenheit and cook for approximately 90 more minutes.
Step 6
Check the internal temperature at the thickest part of the lamb with a meat thermometer. When it registers 135 degrees Fahrenheit, it is considered done.
Step 7
Remove the lamb from the oven and let it rest for 20 minutes.
Step 8
Carve the lamb using the bone as a guide.
Glaze
Step 1
After removing the lamb, place the roasting pan on a stove burner set to medium heat.
Step 2
Pour in the red wine and allow it to heat to the point where the wine at the perimeter of the pan is bubbling slightly.
Step 3
Use a spatula to scrape the meat drippings from the bottom of the pan.
Step 4
Pour the glaze into a serving dish and serve it with the sliced lamb.
Things You'll Need
7-lb. semi-boned leg of lamb

Food processor or blender

½ cup of olive oil

4 to 8 garlic cloves

1 cup of parsley

½ cup of fresh mint leaves

2 tsp. lemon zest

2 medium lemons, juiced

1 tbsp. kosher salt

1 tsp. black pepper

4 oz. red wine or cooking sherry

Roasting pan

Meat thermometer
Tip
A semi-boned leg of lamb needs 20 minutes per pound to cook to medium doneness.
Score the lamb with small, half-inch cuts before rubbing on the olive oil mixture. This will allow the lamb to retain more of the herbs and garlic mixture.
At 135 degrees Fahrenheit, the lamb is considered cooked to medium doneness. It may still be pink, but this is to be expected as lamb is seldom served well-done.
Warning
Always wash your hands after handling raw meat.