Vitamin D is essential for your immune system and bone health, and if you do not get an adequate amount in your diet, you may need to take a supplement. However, because vitamin D is fat-soluble, your body stores the excess, which can lead to a toxicity if you take too much. This may cause bloating and gas associated with constipation, diarrhea and other intestinal issues. Discuss your vitamin D consumption with a licensed physician.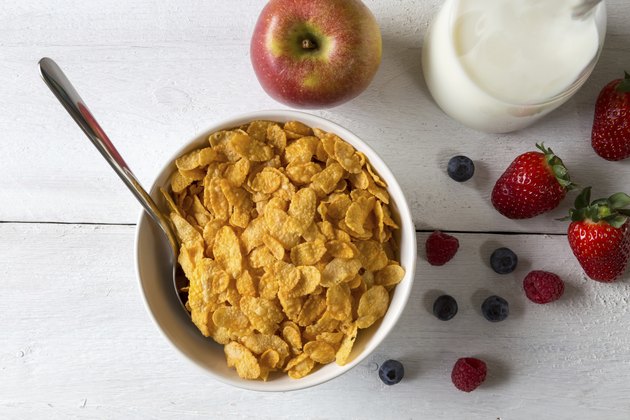 Why You Need Vitamin D
Your bones need vitamin D to help utilize the calcium you consume and stay strong. You also need this vitamin to ward off bacteria and viruses, thereby promoting the proper functioning of your immune system and overall health. If you do not get an adequate amount of vitamin D, this can result in a condition known as osteomalacia, which typically causes muscle weakness and bone pain. People who live in the northern United States, are elderly or have dark skin may need to discuss taking supplements with their doctor to ensure they get enough vitamin D.
How to Take It
If you are careful to consume the recommended amount, you can take vitamin D without promoting or causing intestinal issues like gas and bloating. As of 2010, the Institute of Medicine recommends that adults up to age 70 get 600 IU of vitamin D a day, and this is the combined total amount between your food and supplements. Food sources of vitamin D include eggs, salmon, herring and cod liver oil, as well as milk and cereals that have been fortified with the vitamin. Many multivitamins contain vitamin D as well, or you can take it as an individual supplement.
Risks and Symptoms of a Toxicity
Consuming too much vitamin D can result in a toxicity, also known as hypervitaminosis D. This can cause many adverse symptoms involving your digestive tract, such as vomiting, constipation and the gas and bloating that may occur with these, as well as weakness, confusion, bone pain, sore eyes and kidney stones. If you overdose on vitamin D, your doctor will most likely have you stop taking supplements. According to the Office of Dietary Supplements, the tolerable upper limit for vitamin D is 4,000 IU per day.
Additional Considerations
Vitamin D toxicity and its symptoms almost always result because you are taking too many supplements. For this reason, always discuss your vitamin consumption with your doctor, and let him know about any adverse effects you experience. Bloating and gas can result from problems unrelated to vitamin intake, such as a bowel disease or stress. If you are experiencing these symptoms, discuss them with your doctor to determine the cause.
Is This an Emergency?
If you are experiencing serious medical symptoms, seek emergency treatment immediately.