You're watching your calories, avoiding processed foods and eating more fruits and vegetables. These may be big changes, and you're eager to see the positive results in your waistline, cholesterol levels and markers for heart disease. You may see improvements in your energy levels, your skin may look brighter and your body may feel lighter shortly after making these changes, but it could take weeks or months for the benefits to show up in your blood tests and as significant changes on the scale.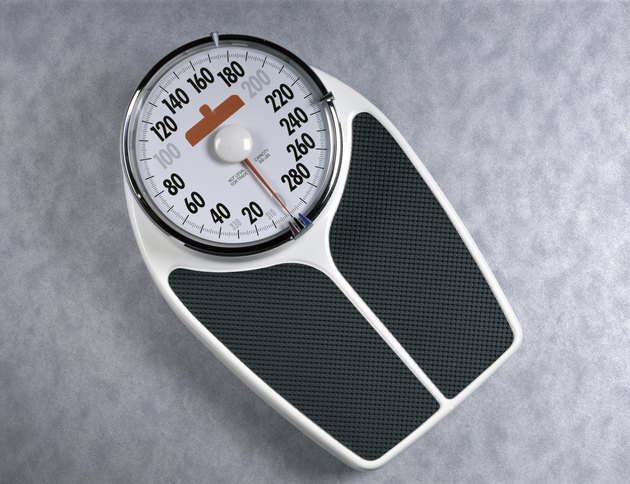 Weight Loss
If you drop your calorie intake below what you burn daily, weight loss occurs. Making this deficit equal about 500 calories results in a pound of weight loss per week because a pound equals approximately 3,500 calories. You may notice your clothes feeling looser in just two to four weeks, or after about 5 pounds of loss. Losing weight can start to positively affect your risk factors for chronic disease when that loss is equal to just 5 to 10 percent of your weight, explains the Centers for Disease Control and Prevention. For a 200-pound person, this is a loss of 10 to 20 pounds. A healthy rate of weight loss is 1 to 2 pounds per week.
Cholesterol Levels
Positive dietary changes may begin to influence your cholesterol levels within two to four weeks, reports the University of Iowa Health Care System. You may have to wait three months to see the full effects of these changes, though. Following a specific dietary plan, such as the Pritikin Program -- which involves a significant reduction in saturated fats, trans fats and dietary cholesterol while increasing your intake of fiber-rich foods such as fruits, vegetables, whole grains and beans -- has been shown to reduce cholesterol levels by 23 percent in just three weeks, on average, according to landmark studies published in the early 1990s.
Other Disease Markers
Your blood pressure responds favorably to weight loss and decreased sodium intake; how soon depends on how much weight you lose and how effectively you modify your sodium intake. If your doctor has told you your triglycerides are high, a healthy diet can lower these levels in just a few days, reports the University of Massachusetts Medical School. High triglycerides are a known risk factor for heart disease.
Long-Term Commitment
Dietary changes can sometimes be less satisfying than popping a pill because the effects may take longer to manifest and the process requires commitment. Some people respond more slowly to dietary changes than others. A food journal and consultation with a dietitian are strategies that can help you ensure you're on track. You may expedite improvements in your health and weight by making other lifestyle improvements, such as quitting smoking, getting adequate sleep and reducing stress, along with dietary changes. This doesn't mean you have to give up every food you love; rather, practice moderation when it comes to sweets, alcohol, saturated fats, sodium and refined carbohydrates. The longer you stick to a healthy diet, the more likely you'll experience positive health results.