Creatine is a biological compound located predominantly in your muscle tissue. Classified as a nitrogen-containing organic acid, creatine supplies your muscles with energy through its interaction with adenosine triphosphate, or ATP. As an athlete, you may supplement your diet with creatine to gain short-term bursts of energy, allowing you to excel in certain activities. However, creatine use may result in digestive upset.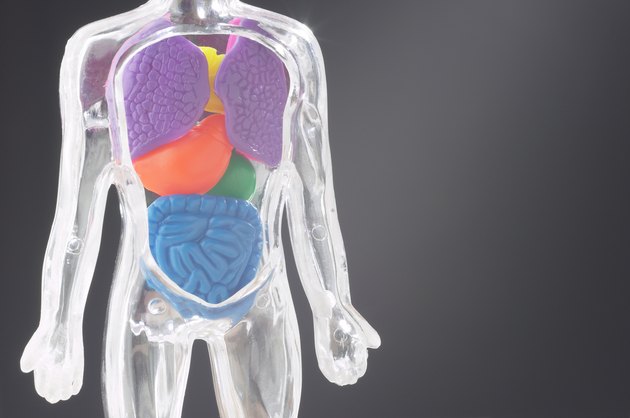 Diarrhea
Diarrhea is a disorder characterized by watery, loose bowel movements that occur frequently. During normal digestion, your large intestine absorbs much of the liquid from the food you eat. When something upsets your bowels, food may move more quickly than usual through your gut, preventing your large intestine from absorbing liquid. This condition results in loose stools. Many factors may lead to diarrhea, including viral or bacterial infection, disorders such as celiac disease, ulcerative colitis or irritable bowel syndrome, or lactose intolerance. Certain foods or dietary supplements, including creatine, may cause diarrhea.
Creatine Supplements
Creatine monophosphate is the most common creatine supplement, according to the University of Illinois McKinley Health Center. Other forms of creatine include creatine citrate, creatine ester, creatine malate and creatine phosphate. Creatine supplements not only provide extra energy for short-term, high-intensity exercise but also may help build muscle mass in your body. The first week of supplementation requires a high loading dose that decreases to a maintenance dose in subsequent weeks. You may notice side effects as your body adjusts to the additional creatine in your body.
Creatine Side Effects
Short-term side effects of creatine supplementation may include digestive problems such as diarrhea. While a short bout of diarrhea may not cause concern, diarrhea lasting for an extended period of time may lead to dehydration. In addition to losing water, diarrhea may also cause your body to shed vital salts and electrolytes. If you experience diarrhea as a result of taking creatine supplements, increase your water and electrolyte intake — for example, by consuming sports drinks — to offset any dehydration. You may also choose to back off on your intake of creatine until your body adjusts.
Considerations
While as of 2011 no studies have evaluated the long-term effects of creatine, using this supplement for up to two weeks appears to cause no adverse events, states the University of Illinois McKinley Health Center. However, consult with a sports-medicine specialist or your health-care practitioner for advice regarding your personal use of creatine supplements. If you choose to supplement with creatine and experience diarrhea that persists for more than a few days or if you notice blood in your bowel movements, the Mayo Clinic suggests you visit your health-care provider for an evaluation.