Vitamin B-12 is naturally found in fish, poultry, clams, eggs and dairy products. It's also frequently added to breakfast cereals and bread products. So while it's quite easy to get enough vitamin B-12 from your daily diet, some people have a difficult time absorbing the vitamin. To treat or prevent vitamin B-12 deficiency, supplementation may be necessary.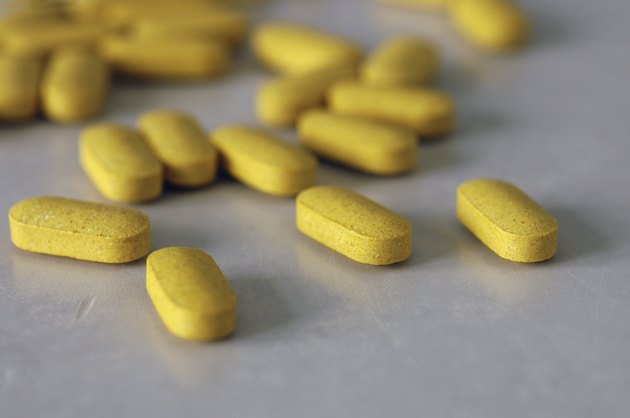 General Rule
No steadfast rules exist for taking vitamin B-12. For this reason, take the vitamin at the time that's most convenient for you -- this will help you remember it each day. For some people, taking it in the morning with breakfast may be the best option. For others, it may be easiest to take the supplement during the bedtime routine. If the supplement upsets your stomach, taking it before bed may be a good option because you won't notice the digestive discomforts. If you must take the supplement during the day, take it with a meal to lessen your discomfort.
Interactions
Vitamin B-12 can cause detrimental interactions with certain medications. According to the Office of Dietary Supplements, these medications include certain antibiotics, proton pump inhibitors used to treat acid reflux and peptic ulcer disease, histamine receptor antagonists and a common drug used in diabetes management. Vitamin B-12 can also interact with folic acid, potassium and vitamin C supplements. To prevent dangerous interactions, consult your physician before taking vitamin B-12. Your physician can help you determine whether any of the medications or supplements you're currently taking will interfere with vitamin B-12.