Running packs all kinds of benefits, among them a great boost to your cardiovascular health, a sky-high calorie burn, lots of bone-building benefits from all that impact and, for some, the fabled runner's high or endorphin rush. But as beneficial as running can be, there are a few potential downsides too — especially if you suffer from lower-body bone or joint problems, have gait irregularities or you've gone so far overboard that you end up overtraining.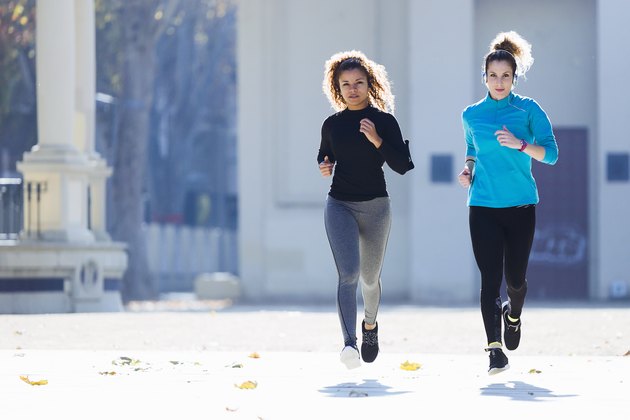 A High-Impact Situation
Both the "whap-whap-whap" you hear every time your running shoes hit the deck of the treadmill or the "thud-thud-thud" of running feet outside are indicative of one thing: impact, the force that is generated when your foot leaves the ground and then contacts it again.
In fact, running is notorious for its high-impact repetitive nature. If you have healthy bones and joints and use appropriate running shoes to help cushion the force of each impact, that's not a big deal — in fact, high-impact exercise has been shown to increase bone bone density in both women and men.
However, if you already have bone or joint problems, the repeated impact of running can exacerbate those problems and leave you at higher risk of injury. Running's high-impact nature increases your risk of straining or injuring a muscle, too.
Tip
In some rehab and training settings, you might encounter a lower-body positive pressure treadmill, or LBPPT, which is basically a treadmill with a pressurized tent around it that encompasses your lower body, providing some upward force to help counteract the impact of running. In a study published in the February 2017 issue of the New Zealand-based journal Sports Medicine, however, researchers found that although LBPPTs do reduce impact, they also alter your body's biomechanical and physiological adaptations to running.
Risk of Overtraining
Perhaps you've heard of the legendary runner's high, which scientists now theorize might be a natural adaptation to mask pain from tired legs and feet, dating back to the era when our ancestors lived or died by their ability to chase down food.
For some people, though, running is more a lifestyle than a hobby, and that runner's high can be a liability if it masks the symptoms of overtraining that sometimes strike hardcore runners whose hearts beat to the rhythm of their shoes hitting the pavement.
Even if it's not concealed by the euphoric rush of a runner's high, overtraining is a real issue for runners. An estimated 61 percent of serious runners will find themselves overtraining at least once, and the unpleasant symptoms of overtraining can include feeling sluggish, trouble sleeping and feeling "off."
A Simple Yet Complex Sport
In many ways, running is a simple exercise. The only "equipment" you need is good running shoes and some workout clothes, and as long as the weather's decent, you can go for a run almost anywhere — no gym membership required.
That simplicity has its own downsides because once you step past the occasional jog, you'll quickly find that there's a lot more to running than meets the eye. Even if you're "just" running for fitness, versus running for sport or competition, the more miles you log, the more you'll become aware of any irregularities in your gait. These can translate to injuries or, less seriously but just as frustratingly, having to buy shoes more often because you wear through one side of the sole faster than the other, due to overpronating or underpronating.
On the other hand, you might find yourself enjoying the challenge of learning new running techniques, especially if you're interested in competing. There is a wealth of resources available, not just online but also through running clubs, specialty running stores and in-person expert workshops, to help you untangle the hidden intricacies of running, such as breathing patterns, foot strike, pacing, training technique and more.
Tip
Your running shoes are the only barrier between your feet and the surface you're running on, so they have a huge impact on every aspect of your run, from shock absorption to gait and foot strike, which refers to the part of your foot that hits the ground first. It's well worth visiting a specialty running store to make sure you're running in shoes that are appropriate to your stature, typical running distance and gait.
Making a Plan
If you're a fan of running — or even if you're not, but your doctor, your family or the gentle application of peer pressure has convinced you to try it — you're bound to lace up your shoes and give it a try anyway. Therefore, if you have a specific goal in mind, such as running a 5K race, then you may eventually get there by shuffling out on random runs. However, you'll see results much more quickly if you set up a training plan.
That's not necessarily a true downside, but it is a surprise, and if you're just starting out, it can lead to some frustrating missteps — pun not intended — if you don't see yourself improving as quickly as you'd hoped. Running publications, such as Runner's World, usually offer a variety of training plans you can adjust to suit your running goals and current fitness level; this is a great way to get started and make sure you see quick returns for your hard work.
Training plans also keep you from accidentally doing too much, too fast. While more is generally better in any exercise situation, tackling too much of a high-impact exercise like running before your body has really adapted to the intensity is a great way to get hurt.
The Positive Effects of Running