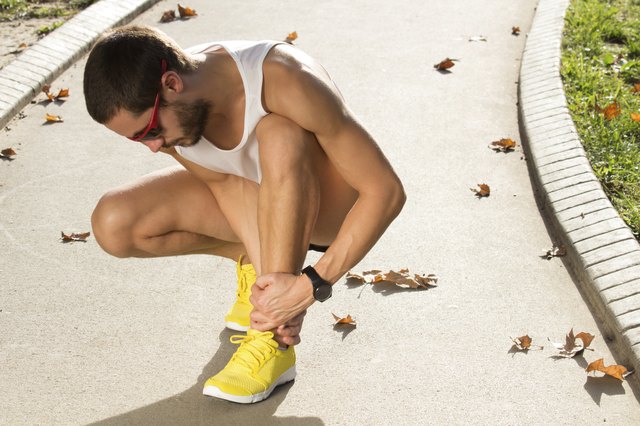 Running burns calories, strengthens your heart, challenges the muscles of your lower body and, for some, acts as moving meditation. Too much running or running with improper form or foot wear can make what is a natural, healthy exercise into a negative for your body. Being aware of what the potential drawbacks of running are and learning how to mitigate them can keep you running and healthy.
But, I Thought I Was Burning Calories
Running at a 6 mph pace burns 372 calories in 30 minutes for a 155-pound person. At that rate, you'd think the pounds would peel off -- but this isn't necessarily what happens. Running increases your appetite, so you may find it nearly impossible to pass up a second helping at dinner. You may also get a sense of entitlement about what you eat -- you ran 10 miles, therefore you deserve the fries, shake and burger. Calories still count and running doesn't make you immune to weight gain, especially if you eat those calories you burned while running and then some. Overdoing aerobic exercise, such as running, and neglecting strength training with heavy weights can also make your body efficient at storing fat, explains strength and conditioning coach Rachel Cosgrove in her book "The Female Body Breakthrough." Keep your weekly workouts balanced with a mix of weight training, running and flexibility work.
Muscle Loss
If you are trying to put on serious muscle mass, running may derail your efforts. Some running – just 20 minutes, two or three days per week – can support heart health and help improve circulation so you recover from a strong lifting session. A lot of running, such as when you train for a half- or full marathon, may impede your attempts to bulk up. A study by French researchers published in a 2000 issue of the "Journal of Sports Medicine and Physical Fitness" determined that your body becomes catabolic during endurance running. This means you produce higher amounts of the hormone cortisol and experience drops in testosterone levels, a state that causes your body to burn off muscle. The French researchers also found, though, that immediately after an endurance run, your body becomes anabolic – meaning you are in a position to build muscle. You may counter the negative effects of running on your muscles by taking advantage of the anabolic window and consume about 20 grams of protein after a long run. A paper published in the "International Journal of Sport Nutrition and Exercise Metabolism" in 2010 notes that this amount of protein seems to encourage the restoration of energy supplies and help with muscle synthesis, or building and repair.
Oh, My Aching Joints
As many as 40 to 50 percent of runners experience an injury on an annual basis, reports a 2010 paper from researchers at the Moses Cone Family Medicine Center in North Carolina in "Current Sports Medicine Reports." Common complaints among runners are shin splints, knee pain, Achilles tendinitis, plantar fasciitis and illiotibial band syndrome. Many of these injuries can be prevented with cross training, proper running form and wearing shoes that fit your stride. Providing yourself with adequate days off from running and progressively increasing mileage, rather than piling it all on at once, can also decrease your chance of injury, but the risk is always there.
Hard on Your Heart
Too much running could potentially have adverse effects on your heart, suggests a group of researchers from Mid America Heart Institute of Saint Luke's Hospital in Kansas City, Missouri, in "Mayo Clinic Proceedings" published in June 2012. The researchers looked at data for endurance exercisers, including runners, cyclists and triathletes, and found that those who trained and participated in these sports for a long time – meaning multiple events over several years – may be at increased risk of heart problems, including coronary artery calcification, diastolic dysfunction and large-artery wall stiffening. Running a lot may also cause issues with the right ventricle of the heart, as noted in a study performed by Australian and Belgian researchers in a 2012 issue of the "European Heart Journal." High-volume endurance exercise correlates with higher levels of these heart problems, but a cause-and-effect has not been proven. The Mid Atlantic Heart Institute researchers also note that lifelong, vigorous exercisers tend to live longer and have better life-long functionality. This doesn't mean you shouldn't run, but like anything, running may be best in moderation.