As you age, it can be harder to lose weight. You may find you cannot eat like you did when you were a 20- or 30-year-old and lose weight. Being a man over 40 and overweight can increase your risk of developing certain chronic diseases. A diet plan for a man over 40 years needs to include the right number of calories and a healthy balance of nutrients to be effective.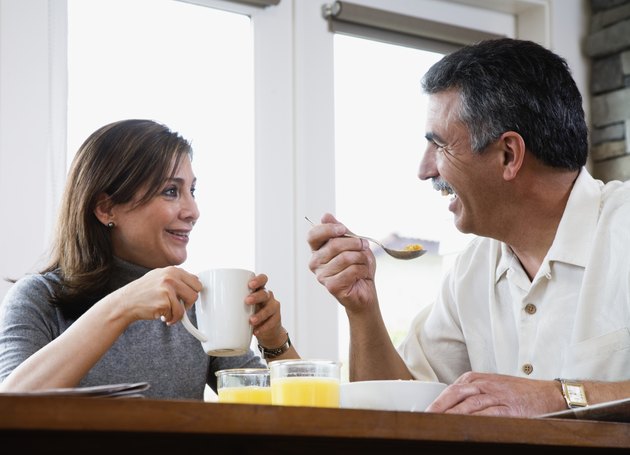 Significance
Being overweight is never healthy, but it seems to really take its toll after age 40, according to a study published in the December 2009 issue of the "International Journal of Obesity." In this study, researchers found that while 29 percent of obese men aged 25 to 39 took medications, this number jumped to 60 percent after age 40. Compare this to the 39 percent of medications taken by normal weight men older than 40 years. You naturally slow down as you get older and your body loses lean muscle mass, especially if you do not exercise regularly to maintain it. Muscle burns more calories than fat at rest, so when you lose muscle, you experience a drop in metabolism. Job and family obligations may make you more sedentary, meaning you burn fewer calories as well. If you are a man who carries a lot of fat in your belly, your risk of chronic diseases increases.
Nutrients and Food Choices
Diet plans for men older than 40 should focus on lean meats and proteins, whole grains, fresh fruits and vegetables, and unsaturated fats. Even when following a low-calorie plan, a 31- to 50-year-old man needs 7 oz. of grains – with at least half of these coming from whole grain sources – 3 cups of dairy, 6 oz. of protein, 2 cups of fruit and 3 cups of vegetables to provide balanced nutrition. Pay attention to portion sizes, sticking to just a palm-size piece of meat and a cup of whole grains at most meals.
Calories
The number of calories the average man aged 31 to 50 years needs to consume to maintain weight varies depending on activity level. Sedentary men need between 2,200 and 2,400 calories per day. Those who are moderately active need 2,400 to 2,600 calories and very active 40-year-old men need between 2,800 and 3,000 calories. Eating 500 calories below what you need to maintain your weight helps you lose 1 lb. per week. So, a diet of between 1,700 and 2,500 calories can help most men older than 40 lose weight.
Sample Meals
When watching your calorie intake, stick to meals that contain between 500 and 700 calories. Breakfast ideas include 1 1/2 cups of cooked oatmeal with a cup of blueberries, 1/2 oz. of pecans and a cup of low-fat milk; two eggs scrambled with two slices of whole grain toast and 12 oz. of orange juice; or a whole wheat bagel with 2 tbsp. of peanut butter and a glass of low-fat milk. For lunch, try a sandwich made with 3 oz. of deli ham or turkey, lettuce, tomato and mustard, with a low-fat yogurt and carrot sticks. You could also have 4 oz. of lean beef on a whole grain roll with a baked potato and green salad. For dinner, opt for 3 to 4 oz. of broiled, grilled or roasted fish, lean meat or poultry with 1 cup of brown rice, quinoa or whole wheat pasta and a generous amount of steamed vegetables. You might consider subbing beans or tofu for a meat meal once or twice a week for good health.