Many changes occur in your body as you age. A natural part of the aging process is a decreased amount of bone and muscle tissue and increased amounts of body fat due to lower metabolism and often less physical activity. However, you can still get your body more toned if you are 40 years old. It is important to combine cardiovascular exercise along with resistance training in order to see changes to your physique. If you are overweight or obese, you will also need to reduce your total caloric intake. Stay consistent with your workouts and a healthy diet for the best results.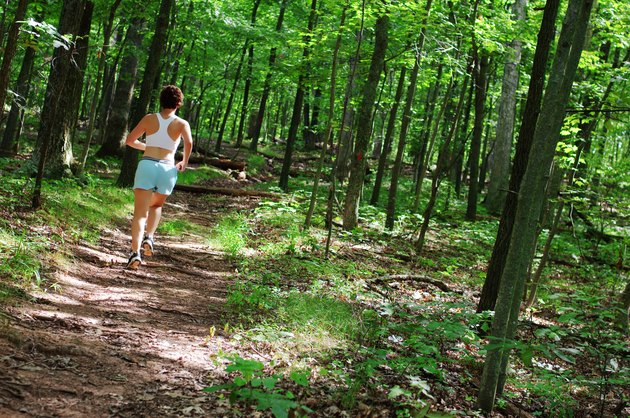 Cardiovascular Exercise
Step 1
Perform cardiovascular exercise three to five days per week for moderate weight loss and health, or five to seven days per week for significant weight loss. Cardio burns calories to reduce total body fat to show off a more toned body.
Step 2
Exercise for 30 to 60 minutes per session, and keep your intensity moderate to high for the best results. The longer and harder you exercise the more calories you will burn each workout.
Step 3
Choose activities that you enjoy but that also challenge your body, causing physical adaptations. For example, if you enjoy walking but it is easy for you, increase the speed you walk at or add incline to your workout. Jogging, swimming, cycling and aerobic fitness classes are a few other examples.
Resistance Training
Step 1
Perform resistance training two to three days per week for changes in your muscular fitness. Exercise on nonconsecutive days to allow muscles adequate recovery time between workouts. Recovery is necessary for improving muscle tone.
Step 2
Choose one exercise for each major muscle group in the body during each resistance workout. Include your back, chest, shoulders, biceps, triceps, abs, legs and calves.
Step 3
Use a variety of resistance-training equipment. You can incorporate free weights, machines, bands, cables, exercise balls or even your own body weight.
Step 4
Do one to three sets of eight to 12 repetitions per exercise. Gradually increase the number of sets over time to avoid injury and overtraining.
Step 5
Use a resistance that challenges the muscles being worked in each exercise. Make sure that you maintain proper form and technique for each exercise before you increase the weight.
Tip
If you need to lose weight in addition to toning your muscles, aim to lose 1 to 2 lbs. each week. Try different forms of cardio for increased challenge and motivation. Change your cardio and resistance workouts every four to six weeks for continual progress. Reduce your total caloric intake by 15 to 20 percent if you are overweight or obese. Consider hiring a certified fitness trainer to guide you through appropriate workouts.
Warning
See your physician before beginning any exercise program. Do not start exercising every day if you are new to exercise or haven't exercised for an extended period of time. Stop exercising if you feel pain, dizziness, lightheaded or nauseous. Do not perform resistance exercises every day for the same muscle groups thinking you will accelerate muscle toning. Do not drastically reduce your caloric intake hoping for faster fat loss.