Marinades are acidic liquids that help impart flavor to foods and also start to tenderize the meat before cooking. The beef round tip roast comes from an area of the cow that produces lean cuts. While that means they are lower in fat than other cuts, they can dry out and moist cooking methods such as braising are often recommended. Marinating the roast with a vinegar-based marinade will help to tenderize the meat and keep it moist while roasting.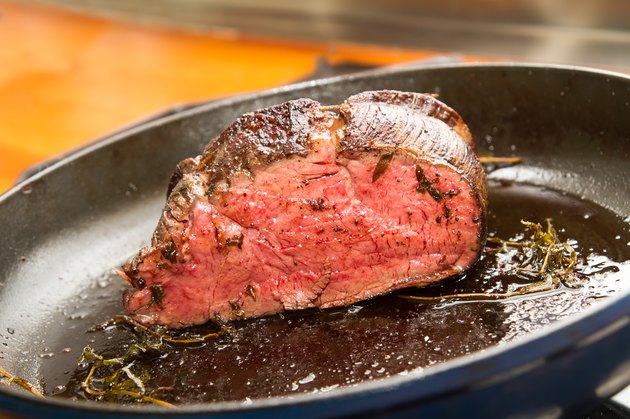 Step 1
Whisk the liquid ingredients in a small bowl to combine them thoroughly. The mustard will help keep the oil and vinegar from separating, plus it will give flavor to the crust of the meat.
Step 2
Mince the garlic and add the garlic and pepper to the liquid ingredients. The garlic can also be just slightly smashed and added whole if you want a milder garlic flavor.
Step 3
Place the roast in a large container with a tight-fitting lid and pour the marinade over the beef.
Step 4
Place the container in the bottom, back corner of your refrigerator where the temperature is the coldest.
Step 5
Marinate the roast for eight to 12 hours before cooking.
Things You'll Need
1 cup vegetable oil

1/2 cup red wine vinegar

2 tbsp. Dijon mustard

2 tbsp. soy sauce

2 tbsp. Worcestershire sauce

2 cloves garlic

Fresh ground black pepper to taste

Baking dish with secure lid

Beef round tip roast
Tips
You can also marinate your roast in a gallon-sized zip-top bag, if your roast will fit. Using a small container like this will help keep contact between the marinade and the meat.
Warning
For safety, beef roasts should be cooked to a temperature of at least 145 degrees Fahrenheit in the center. Use a probe thermometer to take the temperature from the center of the roast.