Technically, any cherry that's grown in wild areas, instead of orchards, is considered wild. In most cases, cherries growing in the wild are safe to eat, but there are certain parts of the plants that aren't edible. Practice extreme caution when eating fruit from wild plants -- unless you're absolutely sure of the safety of the fruit, it's better to stick to cherries from the grocery store.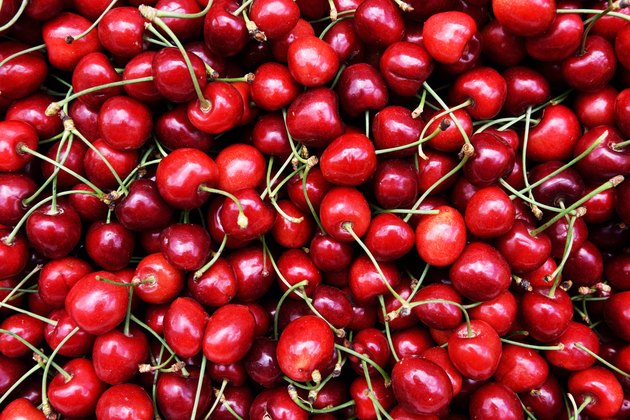 Black Cherries
Black cherries, Prunus serotina, often called wild black cherries, are edible and grow in Canada and the eastern United States. The catch is that the cherries must be pitted because the pits, in large amounts, can cause cyanide poisoning, according to the U.S. Department of Agriculture. The leaves, twigs and bark of the wild black cherry tree are also toxic. The black cherries themselves contain prunasin, which, in large doses, can cause illness or death in humans, according to Nancy J. Turner and Patrick von Aderkas, authors of "The North American Guide to Common Poisonous Plants and Mushrooms." Reasonable amounts of black cherry fruit, without the pits, can be a safe part of your diet.
Bitter Cherries
Bitter cherries, Prunus emarginata, are edible cherries, but they taste quite bitter compared to other varieties. They grow in the western United States as far east as the Rocky Mountains. The seeds and leaves of the bitter cherry plant contain hydrogen cyanide, which can cause respiratory problems when consumed in large doses, according to the USDA. Though edible raw, bitter cherries are more commonly used to make jam. When eating the cherries raw, the pit must be avoided, especially for children, because consuming large numbers of pits can cause cyanide poisoning.
Chokecherries
Chokecherries, Prunus virginina, are often called common chokecherries and grow wild throughout the United States. Most parts of the chokecherry plant are toxic; that includes the seeds, leaves, twigs and bark, according to the Ohio State University Extension. Like other wild cherries, the toxicity is due to cyanide. The fruit part of the chokecherry itself is edible, but the pit must be removed to prevent poisoning. The cherry has a tart flavor much different than the sweet taste of wild black cherries.
Stay Safe
Do not pick or eat wild cherries unless you know what variety they are. Asking a veteran wild berry picker is a wise idea if you're unsure, according to the "Mother Earth News" website. Don't allow children to eat wild cherries without first removing the pits, caution Turner and von Aderkas. Monitor children to be sure they aren't chewing on wild cherry twigs or leaves, either. If you go cherry picking, make a lot of noise because it will scare away bears and other wildlife.