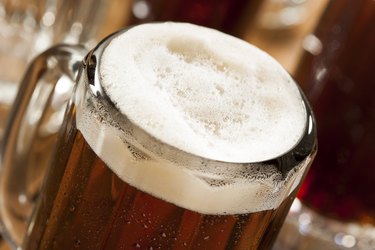 Sarsaparilla and root beer are made from the roots of native North American plants. Both originated as tonics and were highly prized for their medicinal value. Sarsaparilla is made from the sarsaparilla vine, while root beer was originally made from the roots of the sassafras tree. Modern root beers do not contain sassafras because of potential health risks of the plant.
Root Beer
The sassafras tree is a member of the laurel family, and the entire plant contains volatile oils. The root beer that you'll find today in the grocery store doesn't contain sassafras because of health concerns with the ingredient. Instead, your root beer may have other herbal ingredients, such as wintergreen, cinnamon, and anise. However, most modern root beers are made with artificial flavors and sweeteners, and some manufacturers have even added caffeine to give their sodas a kick.
Sassafras
The history of sassafras is a long one, and Native Americans have traditionally used the plant for a wide range of medicinal uses. Sassafras has been used as a spring tonic and blood purifier. The leaves were eaten raw or cooked, and the dried root was used for making tea. All parts of the sassafras tree contain a volatile essential oil that is about 90 percent safrol, which makes the oil poisonous in large quantities. Sassafras essential oil has been banned as a food additive because worries about its toxicity include its possible role as a carcinogenic.
Sarsaparilla
Sarsaparilla was known by the Native Americans. They introduced the plant to the Spaniards, who took the plant back to Europe. The sarsaparilla plant is a small, deciduous woody vine that grows well in hot areas. It has glossy leaves and produces small berries. There are several species of true sarsaparilla that can be used to make the beverage, but they are all from the Smilax family of plants. The sarsaparilla you buy is usually made from the most common species, which include S. regeii, S. officinalis, S. papyracea and S. medica. Another type of plant, commonly called wild sarsaparilla, is a member of the Aralia family and is related to ginseng. You can use it as a substitute for sarsaparilla.
Uses for Sarsaparilla
Wild sarsaparilla, sarsaparilla and sassafras were used by Native Americans. Wild sarsaparilla can help relieve the symptoms of respiratory diseases and stomach aches. It was made into a tonic and used as a cough syrup. The wild sarsaparilla plant is nutritious; you can cook and eat the young leaves, and the fruit can be made into jelly or wine. You can steep the plant's roots in hot water for tea, or boil them to make sarsaparilla tonic.
Making Root Beer
You can easily make root beer at home, using a few ingredients. Root beer extract can be purchased from specialty stores that cater to home brewers. These extracts are safe and will not contain safrole. If you want to make your own root beer from scratch, avoid using any plants that you can't positively identify. Do not use plants that may contain safrole or have been treated with herbicides.