Crown Royal is a Canadian whiskey produced by the British company, Diageo. Crown Royal was created in 1939. King George VI, the King of England, embarked on his first tour of Canada that year. Samuel Bronfman created Crown Royal whiskey, packaged in the crown-shaped bottle with the royal purple bag, to celebrate the occasion. Crown Royal was only available in Canada until 1964. One shot of this Canadian whiskey contains less than 100 calories, but no real nutritional value.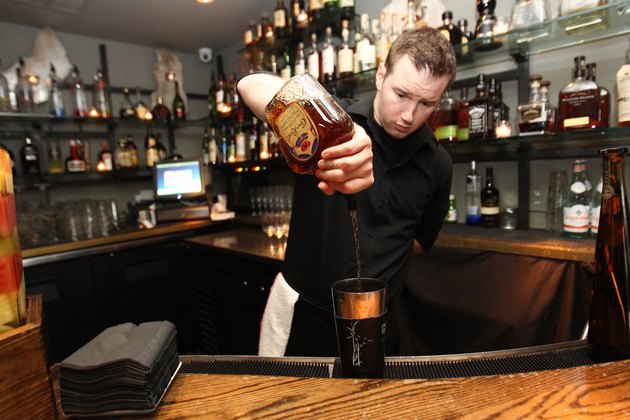 Whiskey Nutritional Information
Crown Royal whiskey is 80 proof. It contains 40 percent alcohol by volume. According to the U.S. Department of Agriculture Nutrient Database, a typical 80 proof whiskey has 97 calories and 14 g of alcohol in a 1.5 oz. serving. It does not contain any carbohydrates, protein or fats.
Crown Royal
Crown Royal whiskey contains 96 calories in a 1.5 oz. serving. It does not have any carbohydrates, protein or fats. A 1.5 oz shot has 14 g of alcohol. Crown Royal does not contain significant amounts of vitamin A, vitamin C, calcium or iron. It has no sodium or cholesterol.
Considerations
If you order Crown Royal whiskey served neat or on ice, the only calories in your drink are the calories from the whiskey itself. However, Crown Royal is also part of many popular mixed drinks, such as Crown and cola or Crown and soda. In these cases, your drink possibly contains additional calories from the mixer.
Nutritional Value
Crown Royal is an alcohol and is generally considered to contain "empty calories," meaning it has no real nutritional value. It does not contain any necessary macronutrients, vitamins or minerals. Alcohol, in general, may have some health benefits. According to MayoClinic.com, moderate alcohol consumption may reduce the risk of heart disease, stroke, diabetes and gallstones. However, the organization warns that the health benefits of alcohol are uncertain at best and that they can often be outweighed by the risks of alcohol consumption.
Bottom Line
Experts recommend drinking only in moderation, defined as a maximum of four drinks per occasion or 14 drinks per week for healthy adult men and three drinks per occasion or seven drinks per week for healthy men over 66 and for healthy adult women. If you do not drink alcohol, it is not recommended you start drinking, as the possibility of reaping any health benefits is not certain enough to justify the risks.