Margaritas are a popular treat at Mexican restaurants. Despite their popularity, margaritas are among the most calorie-dense beverages you can drink. These cocktails often come super-sized, adding up to a day's worth of calories, sodium and sugar in just one drink. Knowing the nutrition facts of a margarita may make you reconsider your beverage choice at your next happy hour.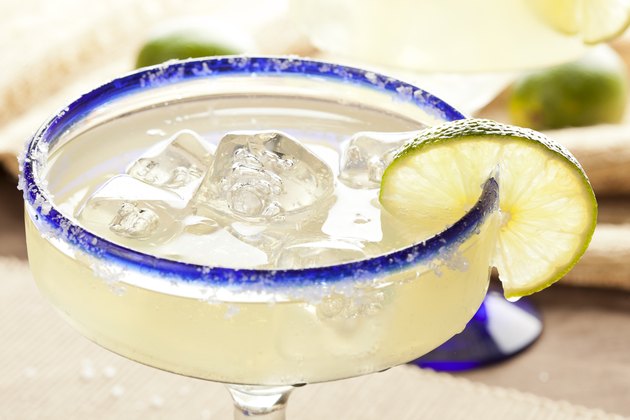 Frozen
Order a margarita frozen and swirled in a large 32-ounce glass at a near-by Mexican restaurant and you will be consuming 600 calories, no fat, 120 grams of carbohydrate and no protein. Frozen margaritas are not terribly high in sodium at 88 milligrams per 32-ounce serving, but sugar content is high at 156 grams.
On the Rocks
Choose to enjoy this refreshing classic on the rocks and you will consume 1113 calories, no fat, 50 grams of carbohydrates and no protein. Not counting the salt on the rim, you will consume almost two times the RDA for sodium and 31 grams of sugar.
Tequila
Tequila, the star liquor of any true margarita, is 104 calories per 1½-ounce serving. Although it contributes no other macronutrients, it is metabolized as fat in the body, like all other alcoholic beverages. For this reason, you may want to be weary of the impact alcohol can have on your waistline, not to mention your health.
Alcohol
Alcohol content of these beverages can vary from restaurant to restaurant. Super-sized margaritas served at many restaurants are often the equivalent of several smaller, potent alcoholic beverages. Regular, excessive consumption of alcohol has been related to a variety of diseases and addiction.