Whether you are asleep, awake, exercising or reclining on your couch, your cells require a constant source of energy to carry on their metabolic tasks. The jobs of enzymes, structural proteins, hormones, fatty acids and other important molecules continue around the clock, as do the processes of cellular repair, regeneration and reproduction. Your body gets its needed energy from foods, which are all ultimately funneled into cellular "furnaces" called mitochondria, where nutrients are converted to high-energy molecules called adenosine triphosphate, or ATP.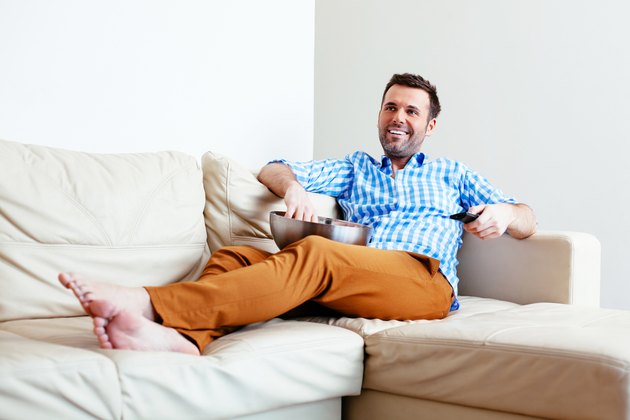 Digestion
Before your cells can use the foods you eat, they must be broken into small particles that can be absorbed through your intestinal wall. Proteins, carbohydrates and fats -- the three main sources of dietary energy -- are attacked within your gastrointestinal tract by digestive enzymes that reduce them to absorbable fragments. According to Dr. Elson Haas, author of "Staying Healthy With Nutrition," lipases, proteases, amylases, invertases, pepsin, trypsin, lactase, sucrase and maltase are a few of the digestive enzymes involved in preparing macronutrients for absorption.
Transport
Once digested nutrients are absorbed in your intestine, they are ultimately carried to every cell in your body. However, some nutrients must undergo initial processing -- mostly in your liver -- before your cells can use them. For example, fats are not water soluble and must first be "packaged" in your liver so they can be safely transported through your bloodstream. Some sugars, such as fructose and galactose, are converted to glucose, which is readily carried through your circulatory system. Likewise, protein fragments are degraded by your liver into amino acids, which are more easily transported.
ATP Production
When they are delivered to your cells, amino acids, fatty acids and glucose are changed to substances that can be transferred into the mitochondria, where they are channeled into two ATP-producing metabolic pathways: the citric acid cycle and the electron transport chain. According to Dr. Charles Ophardt at Elmhurst College in Elmhurst, Illinois, the citric acid cycle is the most important metabolic process in your body; all other metabolic pathways feed into it, and it serves as the link to the electron transport chain, where the majority of your ATP is formed. Without the high-energy chemical bonds in ATP, your cells could not perform any of their metabolic activities.
Considerations
The carbohydrates, proteins and fats you eat are the primary sources of energy used by your cells. The processes of digestion, assimilation, transport, conversion and ATP production are complex, but the citric acid cycle and the electron transport chain -- both located in the mitochondria of your cells -- make up the final common pathway for energy production. To ensure a constant source of raw material for ATP synthesis, your body has developed mechanisms to store extra fuel when it is available. In developed countries, consumption of excess calories is the basis for the rising incidence of obesity.