When it comes to blood cholesterol and heart health, you need to pick out the very leanest meats. Too much cholesterol, saturated fat and sodium in your diet can greatly affect your risk of cardiovascular disease. When you compare ground turkey with its beef counterpart, they're relatively even. But ground turkey comes in a fat-free version that could be the best option for your heart.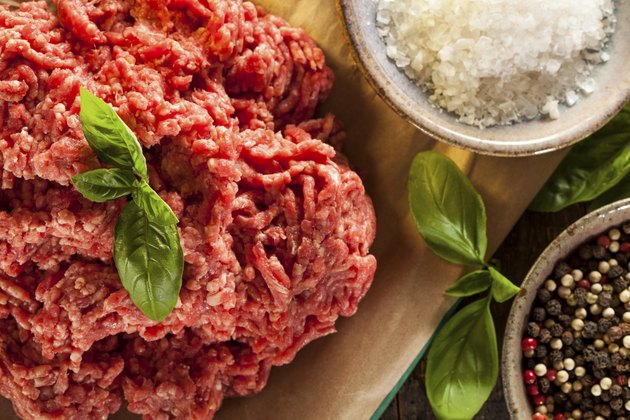 Tracking Cholesterol
Have no more than 300 milligrams of cholesterol in your daily diet to keep your heart healthy, notes the publication "Dietary Guidelines for Americans, 2010." Ground turkey is slightly higher in cholesterol than ground beef. You'll get 105 milligrams of cholesterol from a 3 1/2-ounce broiled 85-percent-lean ground turkey patty. The same serving of ground beef that is also 85-percent-lean has 90 milligrams. Even if you have leaner ground turkey, the 93-percent-lean variety, the cholesterol content doesn't change. But if you opt for leaner ground beef labeled as 95-percent-lean, you'll cut your cholesterol down to about 75 milligrams per 3 1/2-ounce patty.
Saturated Fat Details
Saturated fat shouldn't make up more than 10 percent of your total caloric intake -- 200 calories, or 22 grams maximum, for a 2,000-calorie diet. You won't usually get quite as much saturated fat from ground turkey as compared to ground beef. That 3 1/2-ounce 85-percent-lean grilled ground turkey patty gives you a little more than 4 grams of saturated fat. A beef burger of the same size and leanness has nearly 6 grams. Having a broiled 93-percent-lean turkey patty, weighing 3 1/2 ounces, cuts your saturated fat intake down to less than 3 grams. Ninety-five-percent-lean ground beef patties have about the same amount.
Sodium Concerns
You'll typically get a bit more sodium from ground turkey than ground beef. A 3 1/2-ounce grilled ground turkey patty contains 80 to 90 milligrams of sodium, for both the 85-percent-lean and 93-percent-lean varieties. Similar ground beef patties have roughly 65 to 72 milligrams. Because you can have up to 2,300 milligrams a day, even if you have a ground turkey burger, you'll get less than 4 percent of your daily allowance.
The Leanest Variety
If you're already at risk of developing heart disease, fat-free ground turkey might be your best option. This type of ground turkey is derived from very lean cuts of the bird, and although it still has some unhealthy components, it has very minimal amounts. One 3 1/2-ounce cooked ground turkey patty has just 65 milligrams of cholesterol, a minimal 0.7 gram of saturated fat and less than 60 milligrams of sodium.