Because time is often a factor, many people wonder which cardiovascular activity will give them the best workout for their effort. Walking outdoors is available to most people, though weather and location can be a limiting factor in some situations. Walking on a treadmill requires access to a treadmill, either in your home or at a fitness club. Though both workouts offer the benefits of walking, there are distinct advantages and disadvantages to each.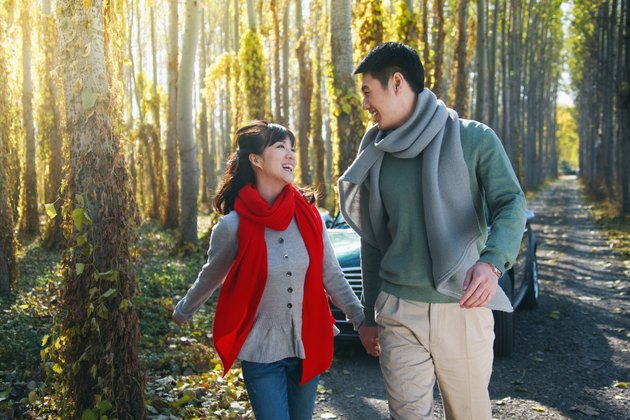 Function
Walking is an accessible activity: most everyone can do it. All you need is a pair of comfortable shoes. Because of this, walking is an attractive workout option for many individuals. Walking is also a low-impact activity; stress on the joints of the legs, hips and back is minimal. Those new to exercise are often attracted to walking because it does not require an additional skill or significant equipment. Individuals recovering from injury can also reap the benefits of exercise without less risk of reinjuring themselves.
Benefits of Walking Outside
Walking outdoors is simple exercise. Most people have access to sidewalks or local trails, making outdoor walking convenient and affordable. A brisk, 30-minute walk in your neighborhood is an excellent way to improve cardiovascular fitness. The varied terrain, combined with proprioception (the neural-muscular response to outside stimuli), keeps the brain engaged in the workout as well. Because the walking surface--whether it be concrete, grass or a trail--is slightly modified with each step, the walker must integrate these changing perceptions to maintain a comfortable stride.
Benefits of a Treadmill
A treadmill offers a variety of options to simulate outdoor walking when outdoor walking may be unavailable. Treadmills allow you to customize your workout: you can choose to walk hills on a treadmill, even if you live in a relatively flat area. Having access to a treadmill, either at home or at a fitness club, allows you to walk when extreme weather prohibits walking outdoors. The surface of a treadmill is more forgiving than a concrete or asphalt sidewalk, putting less strain on your joints.
Comparison
The surface of a treadmill is consistent, making it a great choice for injured walkers or even those new to exercise. On the other hand, a treadmill does not engage the brain's sensory receptors as completely as outdoor walking does. Additionally, you must overcome air resistance while walking outdoors. A high-quality treadmill is an expensive purchase. A gym membership may also be prohibitively expensive for some individuals. Walking outdoors is free, provided you can find a safe place to walk. For most people, however, the most important factor when choosing an exercise type is consistency. You will reap the benefits of exercise whether you walk outdoors or on a treadmill; the key is to walk regularly and briskly.
Considerations
The type of walking workout you choose should be based upon your own fitness goals. If you begin walking as a form of training for an outdoor event, such as a hike, you should try to mimic the event's conditions as much as possible. At the same time, outdoor walking is better for those who do not have access to a treadmill or enjoy changes in weather and natural terrain. Treadmill walking, on the other hand, is better for those who want to customize and track their workouts using a machine.