Any number of disorders can cause you to experience stomach discomfort at night. It may result from a food allergy or bowel disorders, heartburn or more serious conditions such as an abdominal aneurysm or a tumor. Stomach discomfort could originate anywhere from your mouth to your spleen. It may involve only your stomach or could be caused by irritation in your intestines, liver, appendix or kidneys.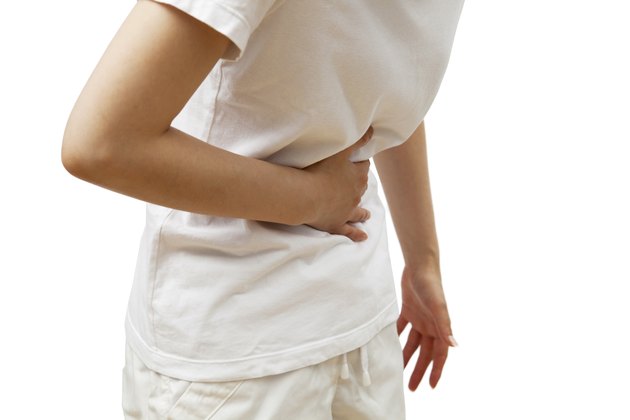 Heartburn
When stomach acid backs up, it can block your esophagus and cause discomfort in your belly region with burning sensations from the bile. Heartburn often becomes more pronounced when you lie down, especially if you've eaten shortly before going to bed. Eating foods such as hot peppers, chocolate, citrus fruits, onions, tomatoes or greasy food at night can lead to heartburn and stomach pain. A hiatal hernia is a condition that causes part of your stomach to push up through your diaphragm and also causes heartburn at night.
IBS
Irritable bowel syndrome, or IBS, describes a myriad of conditions that could be affecting your stomach and cause you discomfort at the end of the day. IBS often is exacerbated by stress, so if you've had a difficult day, your stomach discomfort may worsen. Other indications that you may suffer from IBS include stomach bloating that continues throughout the day and seems to decrease overnight after you've slept. It also may cause constipation or diarrhea. Other symptoms include headaches, sleep disruptions, passing urine more often and nausea.
Peptic Ulcer
Nighttime stomach pain is common when you have a peptic ulcer, according to the University of Maryland Medical Center. Peptic ulcers are caused by an infection from the helicobacter pylori bacteria, also called H. pylori, or by long-term overuse of anti-inflammatory medications such as ibuprofen or aspirin. Many of the symptoms are similar to heartburn and occur after eating spicy or greasy foods. Besides stomach discomfort, you may experience belching, vomiting and unexplained weight loss. Stress also adds to the discomfort. You should avoid caffeine, alcohol and irritating foods at night to prevent symptoms, but seek immediate medical attention if you also start vomiting blood or have a sharp stabbing pain in your abdomen.
Warning
According to MedlinePlus, if the discomfort is occasional, home remedies and changes in your diet can help. Persistent stomach pain that lasts more than a week should warrant a doctor's visit, however. Get emergency care if you lie down at night and also have difficulty breathing, chest pain or severe sudden stomach pain. If you have cancer or are pregnant, you shouldn't ignore the discomfort, but seek immediate medical care.
Is This an Emergency?
If you are experiencing serious medical symptoms, seek emergency treatment immediately.