Originating in Italy, balsamic vinegar is a wine vinegar made from grapes that have been crushed, fermented and aged. Its sweet, pungent taste and mellow acidity make it a condiment for salad dressings and marinating. Balsamic vinegar is also nutritious, offering only 14 calories, no fat and trace amounts of several essential minerals per 1 tbsp. serving. Additionally, balsamic vinegar provides other healthful substances, including antioxidants, which protect cells in the body from oxidative damage associated with certain diseases.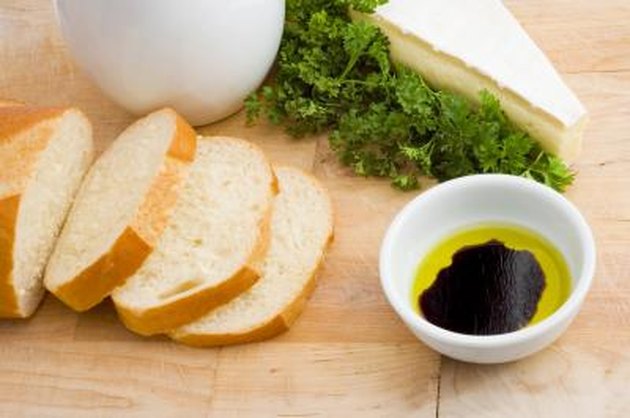 Health Uses
"Balsamico," the Italian name for balsamic vinegar, is thought to be related to the word "balm," connoting a healing potion, according to a "New York Times" article from 1999. Centuries-old Italian writings on balsamico describe it as both a tonic and digestive, as well as a condiment, says "The Times." Today, balsamic vinegar is still used as a folk cure for certain ailments; according to The Vinegar Institute, 1 tbsp. of balsamic vinegar has been said to help relieve heartburn and indigestion.
Polyphenol Health Benefits
While many alternative medicine uses for balsamic vinegar haven't been validated by science, researchers have been able to identify certain compounds in balsamic vinegar that may, indeed, possess curative properties. For one, balsamic vinegar has been found to possess a high amount of polyphenols -- plant compounds with antioxidant properties -- according to research published in "Asian Journal of Food and Agro-Industry" in 2010. This study determined that of nine wine vinegars evaluated for polyphenolic content, balsamic vinegar had the highest count. Another study, published in "Journal of Nutritional Science and Vitaminology" in 2010, also found balsamic vinegar to be rich in polyphenols and, moreover, concluded that balsamic vinegar ingested by human subjects seemed to help mitigate atherosclerosis-associated oxidative damage to the subjects' blood lipids.
Health Effects of Melanoidins
Balsamic vinegar also contains substances called melanoidins that are formed during the Mailard reaction, a process similar to carmelization which takes place during the production of balsamic vinegar and several other foods such as coffee, dark beer and sweet wine. Besides lending balsamic vinegar its brown color and high viscosity, melanoidins may also provide antioxidant benefits, according to a study published in "Food and Chemical Toxicology" in 2010. The study concluded that melanoidins from balsamic vinegar may help prevent oxidative damage associated with the digestion of meat. So, next time you have a turkey sandwich, you may want to consider adding a salad with balsamic vinaigrette dressing on the side.
Acetic Acid and Health
Acetic acid is a major component of balsamic vinegar, representing 6 percent of balsamic vinegar by volume. Clinical research indicates the acetic acid in balsamic vinegar and other vinegars may offer a number of potential health benefits. A study published in the "British Journal of Nutrition" in 2006 determined that acetic acid reduces serum cholesterol and triacylglycerols in rats fed a cholesterol-rich diet, indicating vinegar consumption may provide beneficial effects on human cholesterol. In 2004, "Diabetes Care" published a study concluding that administration of acetic acid via vinegar ingestion improved insulin sensitivity in diabetics. Furthermore, a 2009 study published in "Journal of Agricultural and Food Chemistry" concluded that acetic acid suppressed body fat accumulation in mice, suggesting acetic acid may promote weight control.