There is some evidence that acetic acid, which is the main component in white vinegar, may help with weight loss. However, the research is limited, and you may need to make other changes to your diet than just drink the acidic beverage to lose weight. Consult your physician before starting any weight-loss diet.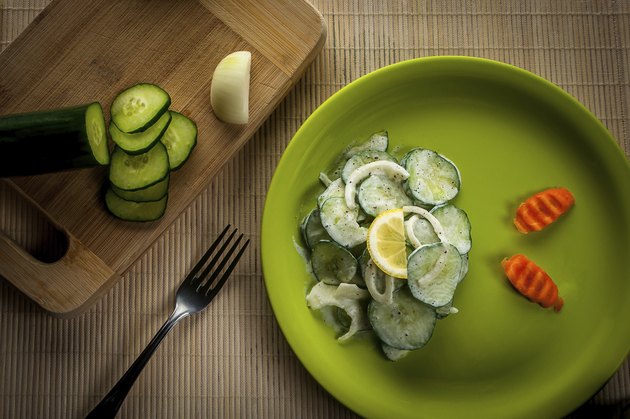 White Vinegar and Weight Loss
Distilled white vinegar is highly acidic and has relatively high acetic acid content, according to the Food Network. A study published in 2005 in the Journal of the American Dietetic Association investigated the effects of consuming either vinegar or peanuts after a high-glycemic meal, which is a meal that digests quickly, on blood sugar levels. The investigators found that the vinegar helped prevent elevations in blood sugar; they also noticed a decrease in calorie intake of 200 to 275 calories for the remainder of the day. While this certainly looks like drinking vinegar before a meal may help you eat less, more research is necessary to confirm the results.
Healthy Weight Loss
If drinking distilled white vinegar helps you eat less, you're well on your way to losing weight. But you shouldn't rely on the vinegar as your only diet change. Weight loss requires that you reduce your calorie intake to create a negative calorie balance. Your weight-loss calorie needs may range from 1,200 calories to 1,800 calories a day. Your doctor or dietitian can help you determine your specific needs. Keep track of your caloric intake to help you stay in the right balance. It also helps if you fill your diet with low-calorie, nutrient-dense foods such as fruits, vegetables, grains, lean sources of protein and nonfat dairy foods.
Distilled Vinegar Concerns
You may have a difficult time drinking distilled white vinegar. It tastes sour, and some people have a difficult time tolerating acidic foods, such as those with gastroesophageal reflux disease or a peptic ulcer. There's also concern that too much vinegar in the diet may lead to dental erosion, although the research is very preliminary, according to a study published in 2014 in Clinical Laboratory.
Serving Tips and Suggestions
Instead of drinking distilled white vinegar, use it to add flavor to your food. It's calorie-free, so it won't affect your calorie balance and makes a good choice on your weight-loss diet. You can use it in place of your usual salad dressing to add bite to your greens. It also makes a tasty acidic ingredient to your meat marinade. You can also use the vinegar to pickle vegetables, which make a great low-cal and flavorful snack.