Protein is an essential nutrient required to build muscle and support other biological processes, but you only benefit from this nutrient if your body is able to digest and absorb it. When more protein is consumed than your body can handle, the excess is stored as fat or excreted from the body, so the keys to maximizing the efficiency in which your body breaks down protein are to avoid overconsumption of the nutrient and to eat the right types of food to help improve digestion.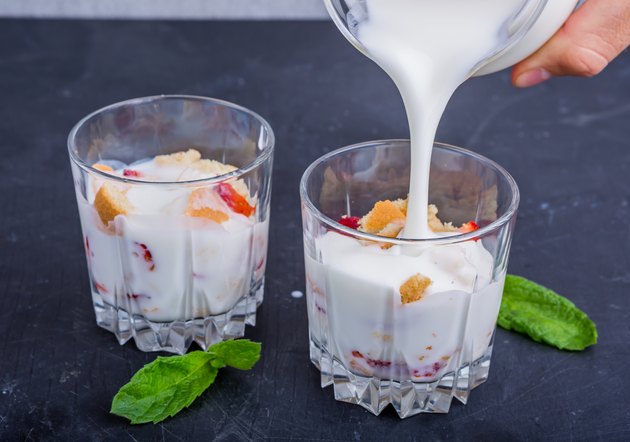 Amount
Your body does not absorb all of the protein you consume, but you can minimize wasted protein by consuming the right amount. Sedentary people need about 0.36 grams of protein per pound of body weight. If you are more physically active, your protein needs are higher. For instance, strength-training athletes should consume up to 0.82 grams of protein per pound of body weight. The most protein your body can utilize is about 0.91 grams of protein per pound of body weight. For example, a 150-pound person could eat and absorb up to 136 g of protein per day.
Digestion
During the digestion process of proteins, the nutrient is broken down into the body's usable form of protein, called amino acids. This process begins once the food or protein supplement reaches your stomach and continues into your small intestines. Most of the amino acid absorption occurs within the small intestine. Proteins absorb at varying rates. Whey protein is one of the fastest-absorbing proteins, and it absorbs at a rate of up to 10 grams per hour. By consuming less protein on a more frequent basis, you can improve the amount of protein your body absorbs.
Digestive Enzymes
The substances in your body that do all the digesting of proteins are the digestive enzymes, which break down the protein into smaller peptides -- and eventually amino acids that enter the bloodstream and are sent to bodily tissues and muscles. Supplementing certain digestive enzymes, specifically 5 g of Aspergillus niger or Aspergillus oryzae at the time of protein consumption, can help significant boost the absorption of protein, explains Precision Nutrition. Consult your doctor before trying digestive enzyme supplements.
Probiotics
Much like digestive enzyme supplements, probiotics have been shown to improve digestion of nutrients in the stomach and small intestine. According to Columbia University Health Services, probiotics are considered to be a "good" type of bacterium that aids digestion. They are found in certain foods, such as yogurt, tempeh and sauerkraut. Probiotics can potentially improve digestion of protein and reduce instances of gas, constipation and diarrhea.