Cider vinegar, which is also known as apple cider vinegar, is made through fermenting apple juice. Throughout the distillation process microoraganisms convert sugar, or carbohydrates, into acetic acid. Proponents of cider vinegar claim this solution is capable of healing various health ailments, which include diabetes, cardiovascular system issues and obesity. Because of the unpleasant taste of cider vinegar, manufacturers have created cider vinegar tablets to streamline the consumption process. As with any natural supplement, cider vinegar tablets pose the risk of adverse side effects.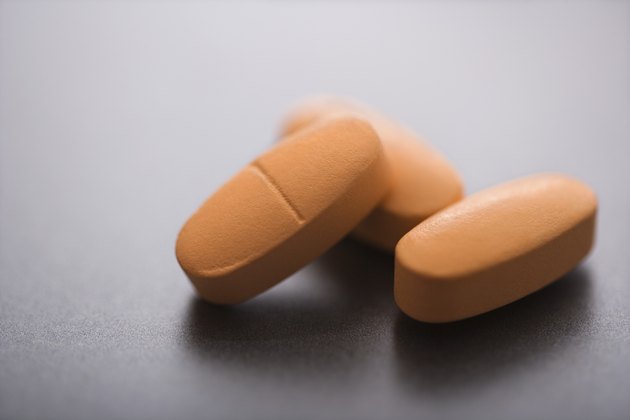 Acetic Acid Side Effects
Cider vinegar tablets are very acidic as its main active ingredient is acetic acid. Acetic acid may cause adverse side effects such as upset stomach, heartburn and throat irritation. Consuming large amounts of acetic acid increases the likelihood of developing side effects. Due to the acidity in these tablets, eMedTV states throat irritation and throat burns have been reported. The "Journal of the American Dietetic Association" cites information from the University of Arkansas Department of Human Environmental Science where researchers investigated a total of eight apple cider vinegar tablets after a report of esophageal injury.
Potassium Deficiency
The active constituents within cider vinegar tablets may cause low potassium levels within the bloodstream, according to eMedTV. Having low potassium in your blood results in a condition known as hypokalemia. Hypokalemia may cause symptoms such as constipation, muscle weakness, abnormal heart rhythm and fatigue. While hypokalemia only occurs if you have a significant drop in potassium levels, it may be treated by consuming potassium supplements and eliminating cider vinegar from your supplement routine.
Medication Interactions
As with any natural supplement, cider vinegar tablets carry the risk of potential adverse reactions when combined with certain medications. If you are currently taking any medications, discuss the use of cider vinegar tablets with your physician. Kristi Monson, PharmD., and Arthur Schoenstadt, M.D., report on eMedTV insulin, digoxin, diuretics, furosemide, torsemide and bumetanide may negatively interact with cider vinegar tablets.
Safety Considerations
Since cider vinegar tablets are marketed as natural supplements, the U.S. Food and Drug Administration does not closely regulate the ingredient concentration within these products. Physorg.com cites a study performed by the University of Alabama School of Human Environmental Sciences where researchers examined the active ingredients in eight cider vinegar tablets from various manufacturers. Upon the conclusion of the study, none of the eight supplements had lactic acid, which suggests the products may not contain cider vinegar. Moreover, researchers found the samples contained acid concentrations 10 times the amount found in standard liquid vinegar. Be careful when consuming cider vinegar tablets as you may not be ingesting cider vinegar and due to the high acidity of these tablets you may experience unwanted side effects.