More than half of all teenagers suffer from acne, according to the August 2001 edition of the "British Journal of Dermatology." Along with the treatment recommendations given to you by your doctor, making certain changes to your diet may help improve your symptoms of acne. Cashews are a healthy food that contains acne-fighting nutrients.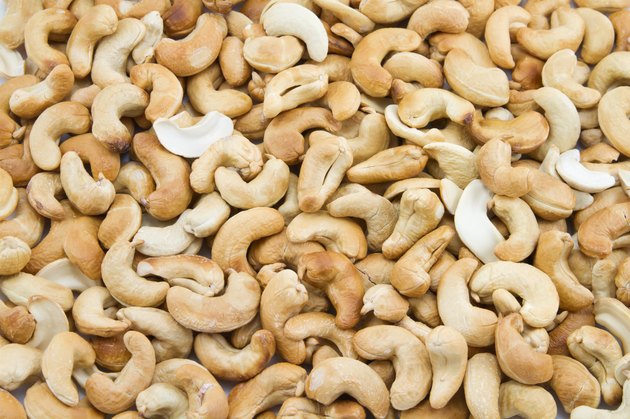 Diet and Acne
In his book, "The Dietary Cure for Acne," professor Loren Cordain discusses the various scientifically supported ways that diet influences acne. He notes that consumption of excess fast-digesting carbohydrates, too little monounsaturated fats and inadequate antioxidant intake contributes to the high rates of acne seen in the Western world. He prescribes a diet that consists primarily of meat, vegetables, fruits and nuts and restricts grains and processed foods. Cashews are one food that he includes in his anti-acne diet.
Fats and Acne
The type of fats in your diet influence levels of inflammation that you have in your body. High levels of chronic inflammation can contribute to clogged pores -- which promote the development of breakouts. Cordain notes that most people's diets don't contain adequate amounts of monounsaturated fat -- an essential fat found in cashews. He notes that adding healthy sources of monounsaturated fats to your diet can cut down on inflammation and reduce acne severity. A 3-ounce serving of raw cashews contains more than 75 percent of your daily value for monounsaturated fats, the USDA Nutrient Database reports.
Glycemic Load
Foods like white bread, candy, soda and sugary cereals have a high glycemic index -- meaning that they get digested quickly. High glycemic load foods ramp up your body's inflammation-producing cells, boosting acne-causing inflammation. Replacing high glycemic load foods with low glycemic foods can help alleviate acne, Cordain says. Cashews and other nuts are naturally low in their glycemic loads. However, sugar-coated cashews may have a high glycemic load. A review in the September--October 2009 issue of "Dermato-endocrinology," reports that a high glycemic diet contributes to inflammation and sebum production, which promotes the development of acne.
Considerations
Like all skin disorders, treat acne with the help of a trained dermatologist. Cashews are rich in total calories and dietary fat and should be eaten in moderation. Cashews alone may not improve the health of your skin. Other important dietary changes to make include limiting dairy products, maintaining a healthy body weight through calorie control and consuming plenty of antioxidant-rich fruits and vegetables.