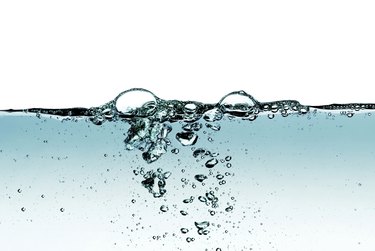 Potato sausage – also called potatis korv - is a dull, grey-colored Swedish sausage you should enjoy only in tight moderation. Although tasty, a 3-oz. serving of potato sausage contains about 300 calories and 1,170 mg of sodium, making it an unwise choice if you have high blood pressure or are taking blood pressure medication. When you decide to splurge with potato sausage, cook it in two steps and with a few additional ingredients to avoid making it even higher in calories and sodium.
Step 1
Add a whole potato sausage ring to a large saucepan and add enough water to submerge the sausage in water.
Step 2
Turn your stove burner to high heat and bring the water to a full boil.
Step 3
Reduce the burner heat to medium and simmer the sausage just below boiling point for 30 minutes.
Step 4
Transfer the cooked sausage to a serving platter with tongs and blot it with paper towels to dry.
Step 5
Slice the potato sausage ring into 1 inch pieces with a sharp kitchen knife.
Step 6
Spray the bottom of a skillet with vegetable oil spray and heat the skillet over medium heat for about 1 minute.
Step 7
Add the sausage pieces to the warm skillet and stir-fry just long enough to brown; about 2 to 3 minutes.
Things You'll Need
Saucepan

Serving platter

Tongs

Paper towels

Kitchen knife

Skillet

Vegetable oil spray

Spoon
Tip
Potato sausage does not keep well. While the best choice is to cook it on the date of purchase, it stores in the refrigerator for up to two days.