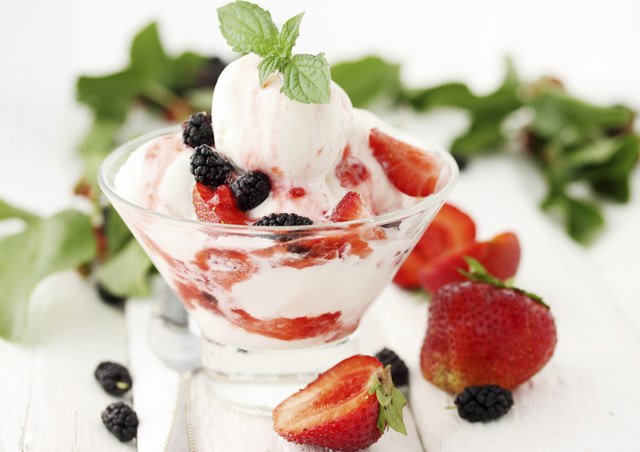 Whether you're following a low-carb diet for weight loss or to manage seizures, you know the goal is to stay in ketosis, which is when your body is using fat for fuel in the form of ketones instead of glucose. To stay in a state of ketosis, you have to severely restrict your intake of carbohydrates, and that means no ice cream, or at least not too much.
Carbs, Ice Cream, Ketosis
While the amount of carbohydrates in a serving of ice cream varies depending on flavor and brand, in general, a 1/2-cup serving of vanilla ice cream contains 15 grams of carbohydrate. The amount of carbs you can eat a day to stay in ketosis varies. On a medical ketogenic diet, your daily carb intake may be as low as 8 grams to 16 grams per 1,000 calories. On one popular low-carb weight-loss diet, carbohydrate intake is limited to 20 grams a day during the first phase of the program and increases as you advance phases.
Ice Cream and Ketosis
If you enjoy eating ice cream and are following a low-carb diet, it may be difficult for you to continue to eat ice cream and stay in ketosis. But if you limit your portion -- a 1/4-cup serving of vanilla ice cream has less than 8 grams of carbs -- you may be OK. But when your carb intake is so restricted, it's important that you include mostly healthy carbs, such as vegetables, to maximize the nutritional quality of your diet, so your ice cream should be limited to the occasional treat.
Sugar-Free Ice Cream
If you enjoy eating ice cream and want a larger portion on your low-carb diet, sugar-free ice cream may be the way to go. Sugar alcohols are used to sweeten sugar-free ice cream. These types of sugars are harder for your body to digest, and they have less of an impact on blood sugar and insulin. When counting grams of carbs on your low-carb diet, you can subtract the sugar alcohol from the total carb amount to get the net carb, which is the number you count to stay in ketosis. For example, if a 1/2-cup serving of sugar-free vanilla ice cream contains 13 grams of carbohydrates and 4 grams of sugar alcohol, then your net carbs are 9 grams. If your sugar-free ice cream also contains fiber, you can subtract that as well.
Keto Ice Cream
Low-carb ice cream, also referred to as keto ice cream, is also an option for the ice cream devotee. Keto ice cream is made out of heavy whipping cream, which contains 3 grams of carbohydrate in a 1/2-cup serving, with added fruit or cocoa for flavor. You can also add egg white powder to up the protein content or oil for more fat. Keto ice cream is not as sweet as regular ice cream but may have a similar mouth-feel and can help satisfy cravings with fewer carbs.