While a big bowl of your favorite ice cream may be associated with childhood memories of happiness and carefree living, deeper physical responses may be at work, triggering various moods when you eat the sweet treat. Ice cream causes both a physical and an emotional set of responses in many people. Learning your own triggers can help you satisfy your cravings and avoid overindulgence, for which you may pay a heavy price in the form of crazy mood swings.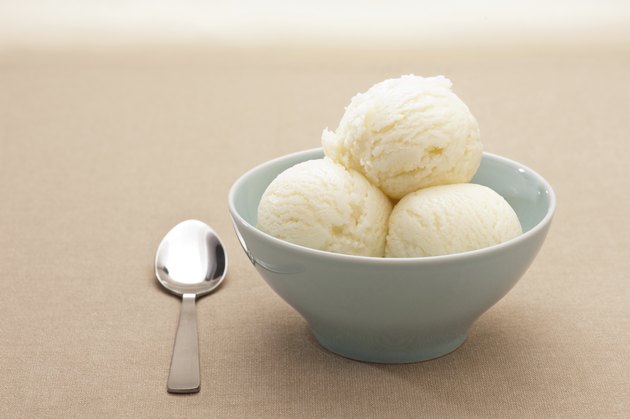 Energizing Effects
Ice cream contains protein, which is made up of amino acids. The amino acids you get when you eat ice cream can affect your moods. Ice creams that are rich in protein increase the odds of boosting tyrosine levels in your brain. Tyrosine is a neurotransmitter that raises your dopamine and norepinephrine levels, according to the Franklin Institute. The result is more alertness and energy.
Calming Effects
Neurotransmitters are sensitive chemical messengers that require just the right environment to trigger their release. Tryptophan is an amino acid in milk products that leads to a calm mood by increasing serotonin production, according to the University of Maryland Medical Center. It is known to help you relax and sleep better. Eating ice cream when you're stressed out, however, may negate any calming effect it may have. Tryptophan and serotonin that provide you with a sense of calm may not get triggered if you're placing stress on your body. Various medications and infections also may interfere with the production of those feel-good reactions.
Depression
While the initial boost of sugar may provide a sense of energetic enthusiasm, an imbalance in your blood sugar levels quickly can turn sour on you, leaving you sad or depressed. In addition to depression, signs that your blood sugar levels are too high include fatigue, poor concentration, irritability, blurred vision and crying spells. At the same time, your metabolism relies on B vitamins to turn the sugar you consume into energy. When B vitamins become depleted, your depression may deepen even further.
Mood Swings
You can experience a slew of mood swings and side effects if you have a food intolerance to lactose, the sugar primarily found in dairy products. While a food allergy may cause you to break out in hives or make it difficult to breathe, a milder form of an allergy may result in unexplainable mood swings, according to Food for the Brain, an informational site provided by the Brain Bio Centre. Gluten, used in a number of ice cream formulas, also can lead to the blues, headaches that make you cranky and aggressive behavior.