Coffee is a widely enjoyed beverage, with half of all Americans drinking it every day as of 2009, according to CBS News writer Rome Neal. Both hot and iced coffee contains caffeine unless you choose decaffeinated versions, and while this chemical has some effects on your body, it does not irritate hemorrhoids. Caffeine's effects are linked to its stimulant properties, not to the digestive system or waste elimination.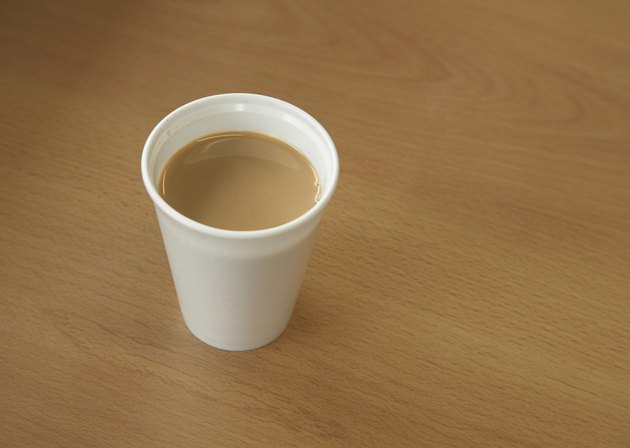 Definition
Hemorrhoids are inflamed, swollen veins in your lower rectum and anal area. Some are inside the rectum, while others pop up externally, under the skin surrounding your anus, the Mayo Clinic advises. The affected area becomes itchy and painful and sometimes bleeds. Hemorrhoids are very common, affecting about half of all people by the time they reach age 50. Coffee drinkers are not more likely to get hemorrhoids or to suffer from worse symptoms.
Symptoms
Hemorrhoids do not always produce symptoms, but the most common signs are lumps or swelling around your anus and bright red blood when you have a bowel movement. The blood may not be accompanied by pain, but hemorrhoids often cause discomfort and itching. You may even experience feces leakage in bad cases. Drinking coffee has no effect on the severity of these symptoms.
Causes
Coffee does not cause or irritate hemorrhoids because it does not typically cause constipation or diarrhea, both of which may lead to hemorrhoids if they are chronic. Sitting down excessively, which puts pressure on the anal area, sitting on the toilet for long periods and straining to have a bowel movement are all common hemorrhoid causes, according to the Mayo Clinic. You are more likely to get hemorrhoids if you are obese, so drinking fattening coffee-based drinks frequently or adding a lot of sugar and creamer to your coffee can indirectly make you more prone to this physical problem.
Considerations
While coffee does not irritate hemorrhoids, several other environmental factors can cause problems. Your underwear might irritate them unless you stick to plain cotton underpants, PedMed Health advises. Do not use toilet paper with dyes or perfumes, and do not touch or scratch your anal area, even if it itches badly. Soak the affected area in warm water, then apply an over-the-counter hemorrhoid cream to soothe the irritation.
Prevention
You do not have to stop drinking coffee to prevent hemorrhoids, but make sure you are also drinking at least eight glasses of water a day, PubMed Health advises. Eat plenty of fiber in your diet, including whole grains, vegetables and fruit. Eat a bran muffin or other healthy snack when you drink a cup of coffee as a simple way to increase your dietary fiber.