Where your body holds onto excess weight is largely determined by genetics and hormones. However, as you get older — especially if you're a woman — your midsection becomes an increasingly common place for fat storage. Shedding tummy fat and getting defined abs takes dedication, and a commitment to eating clean and training hard.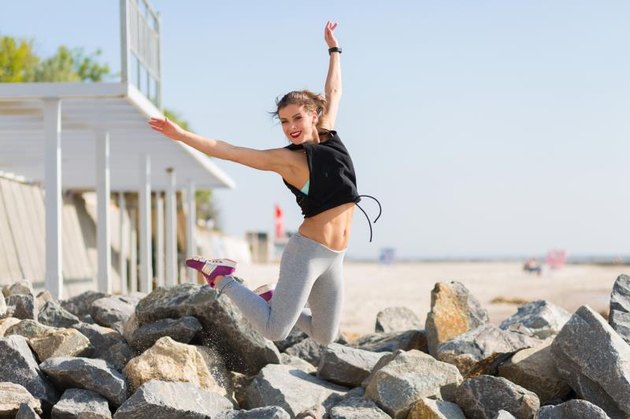 Lower Your Carbohydrate Intake
Your body's first choice for energy are carbohydrates, while its second choice is fat. Once your body has used up its store of carbohydrate, it will begin burning fat for fuel. But if you eat too many carbs, especially the unhealthy refined type, fat-burning will be slow or non-existent.
The trick is to limit your carb intake and choose the most nutritious sources. Complex carbs from whole grains and vegetables will give you the energy you need to put in time at the gym, while supplying essential nutrients and fiber. Cut out simple carbs from sweets, sugary beverages and processed foods, and limit your alcohol intake.
Warning
Eating too few carbs can lead to negative health effects, including dizziness, confusion, anxiety and fatigue.
Stay in a Caloric Deficit
To shred fat, you need to eat fewer calories than you take in through food. Staying in a caloric deficit is essential for burning fat and revealing defined abs.
Your caloric needs will depend on your weight, sex and activity level; working with a nutritionist or personal trainer is the best way to determine how many calories you'll need to shed belly fat.
As a starting guide, though, athlete and author Jeremy Scott recommends this simple equation: If you work at a desk all day and train moderately at the gym, Scott recommends multiplying by 12; if you have a more significant amount of weight to lose — say, 30 pounds or more, go with 11.
As an example, a 185-pound person with a few extra pounds to lose should consume 2,220 calories per day; a 185-pound person with more belly fat to shred should lower caloric intake to 2,035.
Warning
Don't eat too few calories. If your body isn't getting enough calories, it will begin to hold on to its fat stores to conserve energy. You also need the energy from calories to train hard at the gym.
Eat Enough Protein
Your body uses protein to make muscle. If you're not getting enough protein, you won't have the raw material to build ripped abdominal muscles. Protein also helps fill you up, so you can eat less and stay in a calorie deficit.
Scott recommends a starting daily intake of 0.8 to 1 gram of protein per pound of body weight. Choose lean sources of protein such as chicken, fish, and non-fat Greek yogurt
Do High-Intensity Interval Training
Spending hours jogging on the treadmill is not the most effective way to burn the calories need for belly fat loss. In fact, as a review of research published in the Journal of Obesity in 2011 reports note that effect of regular aerobic exercise on body fat is negligible.
Instead, the review author, Stephen H. Boutcher, says that high-intensity intermittent exercise, also called high-intensity interval training, or HIIT, is more effective for reducing abdominal fat than other types of exercise.
You can do HIIT on the stationary bike, elliptical, rowing machine, or treadmill. You can also do it cycling or running outdoors. Warm up walking, jogging or pedaling at an easy pace for 5 minutes.
Return to an easy pace to recover for the same amount of time you sprinted. Repeat steps 2 and 3 four to nine times for a total of five to 10 sets of sprints/recovery. Cool down by walking or jogging for 5 minutes.
Tip
If you are working at a high enough intensity, your breathing should be deep and rapid, you should be breaking a sweat and you shouldn't be able to comfortably hold a conversation or sing.
Choose the Best Ab Exercises
Traditional crunches are not the go-to move when you want to build and define your abs. According to a study performed in 2001 by San Diego State researchers, crunches rank No. 11 out of the 13 ab exercises they studied.
Bicycle crunches, captain's chair leg raises and stability ball crunches were the top three exercises. Researchers determined how effective the exercises were by measuring participants' muscle activity using electromyography equipment.
Tip
Don't forget to train the rest of your body. The more muscle mass you have the higher your metabolic rate, even while you're at rest. Do two to three full-body strength training sessions each week, making sure to take a rest day in between.
You don't need to rest your abs, however. Because they don't fatigue as easily, it's OK to train your abs every day, according to exercise scientist Len Kravitz, PhD, who suggests aiming for three to five ab-training sessions weekly.