Diverticular disease was traditionally believed to be caused by a low-fiber diet, but according to The National Digestive Diseases Information Clearinghouse, the cause currently remains unknown. It is important to differentiate between the two forms of diverticular disease, diverticulosis and diverticulitis, because the treatments vary significantly. Additional dietary fiber is recommended with diverticulosis, whereas with diverticulitis, high-fiber foods and fiber supplements like Metamucil should be avoided. If you think you may have diverticular disease, check with your health care provider for advice on how to best treat your condition.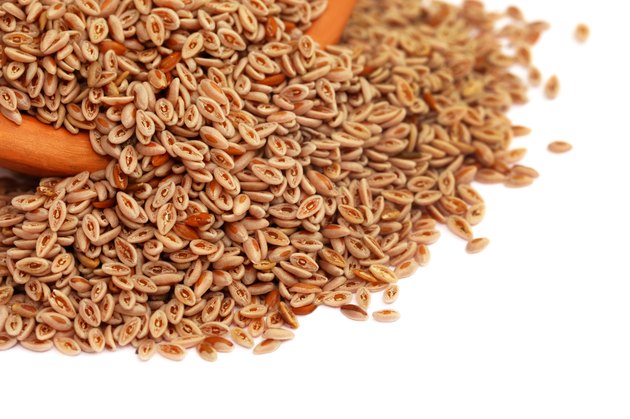 Difference Between Diverticulitis and Diverticulosis
Diverticulosis is defined as the presence of diverticula, small pouches that form through weak spots in the colon wall. Many people with diverticulosis do not have any symptoms, but some experience constipation, diarrhea, or chronic cramping or pain in the lower abdomen. When diverticula become swollen or inflamed, the condition is known as diverticulitis. With diverticulitis, you might experience pain in the lower left side of your abdomen, fevers, chills, nausea, vomiting, constipation, diarrhea or bleeding. Medical treatment will vary depending on whether you have diverticulosis or diverticulitis.
Psyllium Fiber
Metamucil is a brand of a psyllium fiber supplement. Psyllium fiber, or psyllium husk, comes from the Plantago ovata plant and is considered a bulk-forming fiber. Metamucil products can be bought over the counter in the form of capsules, wafers or powders that can be added to foods or beverages. If you choose to use fiber supplements, take them with at least 8 ounces of water to prevent constipation. Fiber and fluids help keep bowel movements soft and add bulk, which allows easier passage. This can help prevent progression of diverticulosis to diverticulitis.
Management of Diverticulitis
During a diverticulitis flare-up, high-fiber foods and fiber supplements like Metamucil should be avoided. These may worsen your symptoms or even lead to the development of complications. The NDDIC recommends a combination of rest, oral antibiotics and liquids until symptoms resolve. Appropriate liquids include those that are clear, such as gelatin, broth, clear juices -- cranberry, apple and grape -- and ice pops without any fruit pulp or dairy. As you start to recover, you can slowly add-low fiber solid foods back into your diet.
Management of Diverticulosis
The mainstay of treatment for diverticulosis is the addition of high-fiber foods or fiber supplements, such as Metamucil. Fiber supplements may be easier to include than high-fiber foods; however, high-fiber foods and a healthy diet are always best. Foods naturally high in fiber include beans and legumes, bran, whole-wheat breads and pasta, fruits, vegetables, and brown and wild rice. Experts at the NDDIC recommend you eat 14 grams of fiber per 1,000 calories consumed, which translates to 28 grams of fiber daily if you follow a 2,000-calorie diet. You should increase your fiber intake gradually and remember to drink plenty of fluids -- at least 8 cups of water per day -- to help avoid constipation.