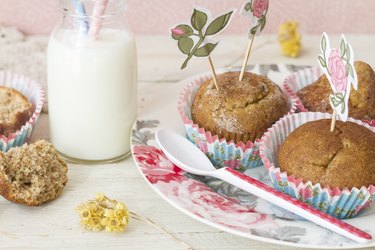 Fiber is an essential part of a healthy diet, but it doesn't have to taste like cardboard. Oat bran is a type of insoluble fiber -- the kind that can help lower your cholesterol. Aside from the cardiovascular bonus, oat bran can help regulate your bowel movements and keep your colon healthy. Just 1/2 cup of oat bran provides about 2.2 g of insoluble fiber -- a good start toward your daily needs.
Get Your Fiber Needs
Step 1
Figure out how much daily fiber you need to meet daily intake requirements. The 2005 Dietary Guidelines for Americans suggest eating 14 g of fiber per 1,000 calories in your diet. If you eat a standard 2,000-calorie daily diet, you will therefore require about 28 g of fiber daily.
Step 2
Add your oat bran gradually. A sudden change in diet, especially concerning your fiber intake, might lead to uncomfortable gastrointestinal effects, such as gas and diarrhea, which are commonly reported side effects of a sudden increase in dietary fiber.
Step 3
Use the oat bran as a meal, snack or as a tasty garnish. Oat bran cereal is easy to prepare, with the recipe usually right on the can of bran. Snacking on handfuls of bran throughout the day might help you feel full longer and curb future snacking habits. Sprinkle 1/2 cup of oat bran on yogurt, fresh fruit or in a smoothie for an edible garnish.
Step 4
Choose store-bought oat bran products wisely. A product can be labeled as "Added Fiber" even if it only contains 2.5 g more fiber than another similar product. Look for oat bran products labeled "High Fiber," which must contain 5 or more grams of dietary fiber per serving.
Step 5
Drink water with the oat bran. Water-soluble fiber will absorb water in the intestines, which could lead to painful constipation if you do not increase your water consumption as you increase your fiber consumption.
Oat Bran Muffins
Step 1
Mix 1 and 1/2 cups oat bran, 1/2 cup dark brown sugar, 1 and 1/2 cup flour, 2 tsp. baking powder, 2 tsp. baking soda and 1/2 tsp. salt in a mixing bowl.
Step 2
Add 2 eggs, 1 cup cold applesauce and 4 tbsp. of vegetable oil to the mixture. Spoon the mixture into a muffin pan and let it sit for 10 minutes before baking.
Step 3
Heat the oven to 400 degrees. Once the oven in preheated, insert the muffins and bake for 15 minutes. Wait a few minutes to enjoy your tasty oat bran fiber -- these muffins will be hot.
Things You'll Need
Oat bran

Dark brown sugar

Flour

Baking powder

Baking soda

Salt

Eggs

Applesauce

Vegetable oil

Mixing bowl

Spoon

Muffin pan
Tip
Try mashed bananas or other fruits if you do not like applesauce. You can exchange wheat flour for the white flour to add even more fiber to the muffins.