If you've ever experienced fullness in your abdomen combined with other digestive symptoms, then you've likely had bloating. A banana, a potassium-rich fruit, is not a common cause of bloating. In fact, bananas are known for having the opposite effects. They can help alleviate diarrhea and constipation and can even combat water retention. Bloating after eating bananas can be indicative of a digestive issue or even food allergies.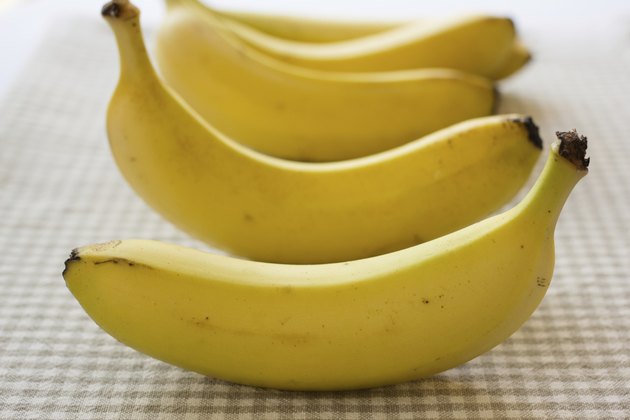 Going Bananas With Potassium
Potassium is the most notable nutrient in bananas. According to the U.S. Department of Agriculture, one medium-sized banana has about 422 milligrams. This mineral is important in maintaining proper sodium levels in the body, which can help reduce water retention over time. Water retention is a common cause of bloating. Potassium is also a key player in heart and muscle health. Aside from potassium, a medium banana also has about 3 grams of fiber, which may help maintain digestive health.
Breaking Down Carbohydrates
As a whole fruit, a banana is a healthy food choice. It also has a high carbohydrate content; the U.S. Department of Agriculture estimates 27 grams of carbs per medium banana. If you experience bloating, it could indicate that your small intestine is not processing bananas properly. Normally, carbohydrates meet with enzymes in the intestine as part of the digestion process. When this does not occur, the carbs bypass the small intestine and are then metabolized by bacteria in the colon. As a result, bloating and flatulence can occur.
Exploring Banana Allergies
When you think of food allergies, nuts and shellfish are often the first to come to mind. While these are certainly the most common, any food can technically be allergenic. Food allergies vary in type and severity between individuals, though allergies to fruits are often mild. If you suspect you have a banana allergy, soon after eating one it most likely will cause symptoms around the mouth and face, such as a rash and itchiness. It can also cause bloating and cramps. If you have ragweed allergies, you're more likely to be allergic to bananas.
Solving Bloating Issues
The best way to prevent bloating from bananas is to avoid them. Suspicion of a food allergy should be addressed with an allergist so you can receive a proper diagnosis through blood or skin tests. If allergies are not the underlying cause, you may need to explore possible gastrointestinal issues with a doctor.