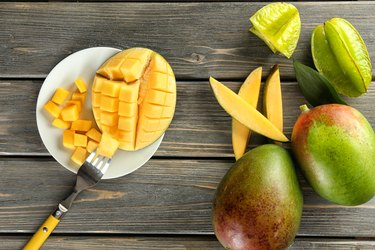 Acid reflux is a common condition that affects millions of people in the U.S. And certain foods can trigger it, including acidic fruits. But what about mango — is mango good for acid reflux, or can it aggravate symptoms?
An estimated 20 percent of the U.S. population experiences reflux, and it can cause symptoms like:
Heartburn
Regurgitation
Chest pain
Trouble swallowing
Chronic cough
Hoarseness
A sour taste in your mouth

Though it sounds intimidating, occasional heartburn is typically not cause for concern. That said, frequent or severe episodes may be a sign of a more serious condition called gastroesophageal reflux disease (GERD), and warrant a visit to your doctor, per the Mayo Clinic.
And certain foods can trigger reflux, including some fruits, per the NIDDK. So, is mango bad for acid reflux? Here, we explain the connection between mango and acid reflux and whether you should avoid mango for GERD.
Is Mango Good for Acid Reflux?
Acidic foods — that is, foods with a pH balance of less than 7 — like citrus fruits and tomatoes
Chocolate
High-fat foods

Fried foods
Spicy foods
Mint
Coffee and other caffeinated drinks
Alcohol
So, is mango acidic? Ripe mangoes aren't as acidic as many other fruits, according to Clemson University — they have a pH of 5.80 to 6.00, compared to, say, grapefruit, which has a pH of 3.00 to 3.75. As a result, mango is likely good for GERD compared to more acidic fruits.
Melon
Banana
Avocados
Papaya

Pear
Watermelon
Figs
Kiwi
Peach
Listen to Your Heart(burn)
Even though ripe mangoes are among the better fruits to eat if you have GERD, it's important to remember that everybody has different problem foods, according to the NIDDK.
So if mango regularly triggers symptoms for you, it's best to limit or avoid it even though mango is hypothetically good for acid reflux.
Other Tips to Manage Acid Reflux
According to Harvard Health Publishing, here are some other tips to help you manage reflux or GERD:
Eat smaller meals more frequently instead of three large meals per day
Avoid lying down for several hours after a meal
Chew gum after a meal
Wear clothes that do not restrict the abdomen
Sleep at an incline