Fruits are known to be related to health benefits and provide protection from adverse conditions and diseases. Specifically, mangoes act as a nutraceutical to be used as a treatment, and may provide a means to meet specific dietary recommendations. Due to the nutrient content, mangoes can possibly improve the digestive system and decrease the chance of health-related conditions and diseases.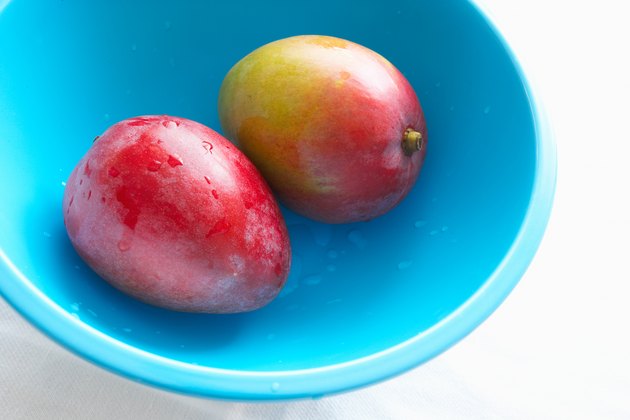 High-Fiber Content of Mangoes
In comparison to other tropical fruits, mangoes provide the highest amount of total dietary fiber. Approximately 3g of fiber can be found in 100g of natural fruit. The high-fiber content can reduce the chance of gastrointestinal disorders such as Crohn's disease. A study published in "Gastroenterology" in 2013 has shown a strong inverse relationship with fiber intake from fruit and Crohn's disease. Consuming mangoes on a regular basis throughout your life may also improve digestion or the outcome of a gastrointestinal disorder.
Improvement of Gastrointestinal Environment
Fiber improves the environment of the gastrointestinal tract. The maintenance of a healthy microbiota or the beneficial bacteria decreases the chance of negative health consequences. From mangoes, soluble fiber is digested and fermented. Such a mechanism creates short chain fatty acids, reduces water retention, and decreases inflammation.
Digestion With the Presence of Fiber
The metabolism of lipids or fats occurs more efficiently with the presence of soluble fiber due to the nutrient binding bile and metabolites, allowing a bowel movement to occur at ease and increasing immunity.
Mangoes as a Dietary Intervention
Mangoes offer beneficial nutrition and provide a safe and low cost vehicle for fiber consumption, resulting in decreased gastrointestinal illnesses. In addition to digestive health, the risk of cardiovascular diseases may be improved, as well. Fiber content from other foods, such as grains, may not offer a significant or greater reduction of gastrointestinal disorders.
More Mangoes
People should consume mangoes as a dietary intervention on a regular basis to obtain a true benefit for digestive health. Other nutrients and naturally occurring chemicals or molecules found in mangoes could also be influential on health.