Water, like any consumable substance, can be considered poisonous when consumed in excess. Water poisoning, also referred to as water intoxication, is rare, but one of the results is stomach irritation. The problem is due to an imbalance between electrolytes, which are minerals in your bloodstream, and water in your body. Avoid stomach irritation from water by drinking the right amount of it each day.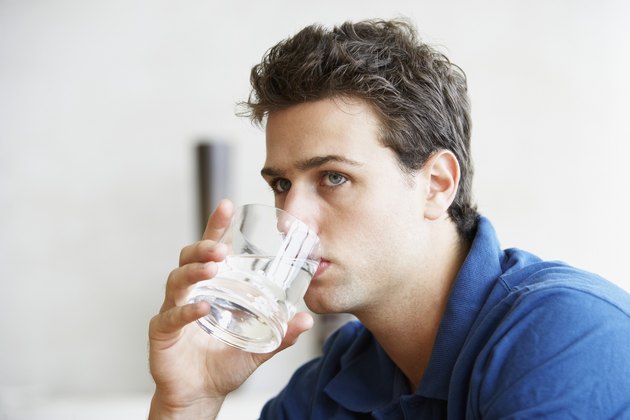 Recommendation
The National Institutes of Health reports that experts recommend an intake of six to eight 8-ounce glasses of water per day. Men need more water than women, on average. The Institute of Medicine advises men to consume 3 liters of water per day; women need about 2.2 liters each day. Please note that these recommendations are just averages, and your daily water intake may vary depending on your physical activity level and any health conditions you have. Drink extra water during and after a workout.
Hyponatremia
Water makes up about 60 percent of the average person's body weight, so it's certainly advisable to drink water each day. However, drinking far beyond the recommended amount of water results in a condition called hyponatremia, or low blood sodium. One of the main symptoms is stomach discomfort and vomiting. Others include confusion, fatigue and convulsions. When your kidneys are not able to filter all of the water you're consuming, hyponatremia is a real risk. If you drink a lot of water during long bouts of exercise -- over 60 minutes -- you are at an increased risk of water intoxication because the kidneys cannot keep up.
Kidneys
Your kidneys have to process all of the water you consume. A healthy kidney filters up to 1,000 milliliters of water per hour -- equivalent to 0.26 gallons per hour per kidney. Drink no more than this amount per hour to help ensure you're not overworking your kidneys. If you have kidney disease, your kidneys might not be able to process water at these rates. Consult your doctor to determine your limits.
Treatment
If you have frequent stomach aches, diarrhea and/or vomiting, consult your doctor right away. You shouldn't stop drinking water as a way to treat yourself because you could potentially cause other problems, such as dehydration or kidney problems. The best way to prevent water poisoning is to stick to the daily recommendations of water intake from health professionals. Long-distance runners and other endurance athletes should be particularly careful due to their increased intake of water during a training session or event.