If you sprinkle a bit of cinnamon on your oatmeal every morning because you've heard it's good for you, you're not alone. Cinnamon -- the red-brown spice with the sweet-hot flavor that's instantly recognizable -- has long been valued for its anti-inflammatory, antimicrobial, antibacterial, anti-fungal and anti-clotting properties. All natural cinnamon products -- including cinnamon extract and ground cinnamon -- are made from cinnamon bark, which contains beneficial and highly potent essential oils.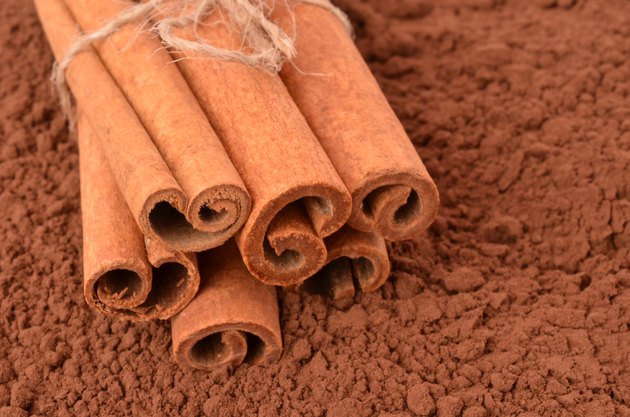 Ground Cinnamon
Ground cinnamon is made by pulverizing cinnamon bark into tiny, powder-like particles. Most of the ground cinnamon used in American kitchens is cassia cinnamon, which is distinguished by its deep red-brown color and strong, peppery flavor. Because cassia cinnamon bark curls tightly inward from both sides as it dries, it's generally too hard to pulverize at home, even in a spice grinder. Although ceylon cinnamon, also known as true cinnamon, isn't the predominant kind in the United States, it's becoming more readily available. Ground ceylon cinnamon is lighter in color and sweeter tasting than the cassia variety. The bark itself is also thinner and softer, making it relatively easy to grind at home.
Cinnamon Extract
Cinnamon extract is a more concentrated source of flavor than ground cinnamon. Much like vanilla extract, it's made by soaking cinnamon bark in alcohol and then straining out any remaining solids. Although manufacturers aren't required to list the kind of cinnamon used in their products, most of the commercially produced extracts in the United States come from cassia cinnamon. Cinnamon extract has a long shelf life when it's stored in a cool, dry place, but like ground cinnamon, it loses potency over time. Cinnamon extract shouldn't be confused with cinnamon oil, which is obtained directly from the bark and is a far more concentrated source of flavor.
Potential Benefits
In recent years, the scientific community has generated much excitement about how cinnamon may affect blood sugar control. A 2011 study published in the "Journal of Medicinal Food" found that both ground cinnamon and cinnamon extract were effective in lowering fasting blood glucose levels in people with type 2 diabetes or pre-diabetes. A 2012 study published in the "Journal of the Academy of Nutrition and Dietetics" concluded that ground cinnamon promoted a more controlled blood glucose response after eating, while a 2006 study published in the "European Journal of Clinical Investigation" found that cinnamon extract helped reduce blood glucose levels in diabetics with poor glycemic control. Despite the promising evidence, however, more studies are needed to know what kind and how much cinnamon is most beneficial.
Other Considerations
While sprinkling some ground cinnamon on your oatmeal or stirring a teaspoon of cinnamon extract into a bowl of oatmeal will most likely benefit your health, consuming too much cinnamon could impose health risks. Cassia cinnamon contains coumarin, a compound that can cause liver damage in high doses. Coumarin is also an anticoagulant, which means that eating large amounts of cassia cinnamon could inhibit your blood's ability to clot when necessary -- particularly for those already taking anticoagulant medications such as warfarin. Although there is no maximum established safe dosage for cinnamon, the average healthy person can safely consume as much as 6 grams of cinnamon a day for up to six weeks, according to the National Center for Complementary and Alternative Medicine. Pregnant women and anyone with liver or kidney disease should probably avoid high doses of cinnamon, according to NYU Langone Medical Center. If you're interested in consuming cinnamon for its potential health benefits, ask your physician which kind to use and how much you can safely consume.