Cracks in the shells of eggs can allow bacteria or other pathogens to contaminate the egg and make you sick. While cooking does reduce the amount of most contaminants, it does not remove them completely. Inspect eggs before buying them to make sure you and your family aren't exposed to food-borne illnesses because of cracked egg shells.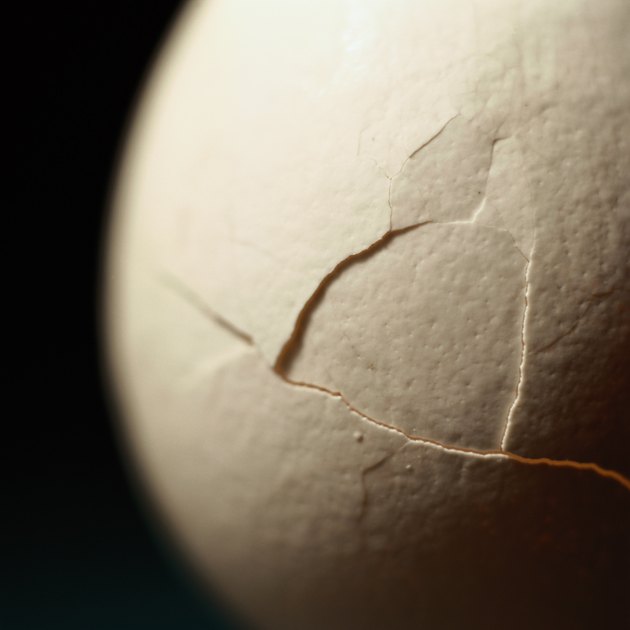 Cracks and Bacteria
Inside of an intact shell, an egg's white and yolk are nearly sterile, and rarely contain bacteria. Eggs contain a high concentration of nutrients, perfect for supplying a growing chick as well as multiplying bacteria. Refrigeration, as well as proper cooking, can greatly reduce the chance of becoming sick from a small amount of bacteria, according to the U.S. Department of Agriculture. However, cracked eggs always contain higher levels of bacteria and may not be safe to eat.
Egg-borne Pathogens
The most common egg-borne pathogen is the bacteria Salmonella enteritidis. According to the American Egg Board, Salmolella is found in only about 1 in 20,000 intact eggs. You'd have to eggs regularly for more than 80 years, on average, to be exposed to one. However, bacteria on the egg shell can enter the egg through a crack. If you experience nausea, vomiting, diarrhea, cramps or headache after eating eggs, you may have been exposed to Salmonelle or another food-borne pathogen. See you doctor if symptoms persist more than a few days or become severe.
Inspecting Eggs
When shopping, check eggs for cracks and verify the expiration date. Usually, opening a carton of eggs and visually inspecting for cracks in sufficient. Other shopper may not appreciate you picking through every egg before buying. If you still happen to arrive home with eggs that are cracked, discard them.
Other Signs of Contamination
A pink, iridescent or discolored egg white can be a sign of bacterial contamination. Blood spots and cloudy or clear, but still white, egg whites are not signs of contamination. The color of yolk will vary from egg to egg and is not necessarily a sign of contamination. If an egg floats in water, it is a sign that the egg is older and an air pocket has formed; The egg is still safe to eat. A green ring around the yolk of a boiled egg is a sign of overcooking and is not a sign of bacterial contamination.