Cutting, a common practice among fitness competitors and bodybuilders, involves restricting calorie intake to cut fat so that you look as lean as possible on competition day. Many bodybuilders take dietary supplements, including creatine, during the cutting phase. The way you take creatine during cutting is slightly different from when you're bulking. Consult with your sports physician and training coach before taking dietary supplements such as creatine.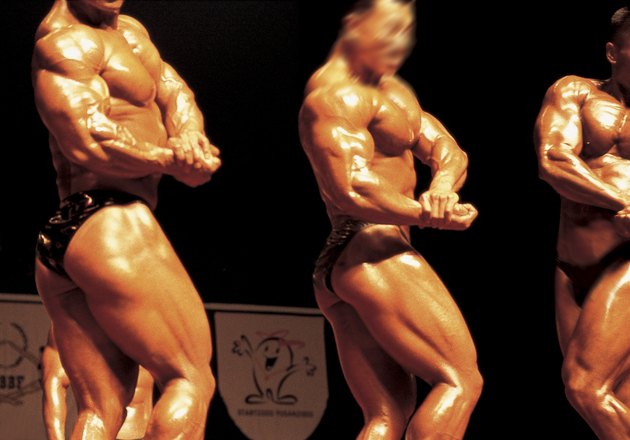 About Creatine
Creatine is an amino acid naturally produced by the body and also found in protein-rich foods such as meat and fish. It plays a role in producing energy during weightlifting and other types of short-duration, high-intensity exercise. Creatine serves as a precursor to adenosine triphosphate, or ATP, a crucial energy source for the body, especially working muscles. For this reason, it's commonly taken as a pre-workout supplement to boost workout performance. It may also increase lean mass.
Take It After Workouts
Because it's challenging to retain and build lean mass during a cutting phase, some athletes take creatine to help. It is more effective to take creatine post workout if you're looking to build or retain lean mass, according to Steven D. Spainhower in the "The Sports Nutrition Handbook." You'll get the best results if you take creatine after your workout, according to a study published in the August 2013 issue of the Journal of the International Society of Sports Nutrition.
Take the dosage recommended by your sports nutritionist immediately following your workouts. It's best absorbed when taken with fruit juice or starches
Avoiding Bloat
Some bodybuilders have reservations about taking creatine during a cutting phase because it draws water into the muscles, which may cause you to look bloated. Spainhower recommends choosing a form of creatine that doesn't cause bloating instead of creatine monohydrate, which is commonly taken during bulking. Look for anhydrous creatine, or simply look for "bloat-free" on the creatine label.
Be Aware of Side Effects
Only take supplements if you're healthy. If you're new to creatine, you may experience nausea, diarrhea or stomach upset. These side effects are generally mild and tend to go away with continued use. Creatine may cause an increase in blood pressure in certain people, so talk to your doctor if you have hypertension or are at risk for it. Tell your doctor about any medications you take, as creatine may interact with certain drugs.