Sugarcane is a tall, thick perennial grass similar in appearance to bamboo. It is native to tropical regions of Asia, although now widely grown in Brazil and the Caribbean. Sugarcane is rich in sugars and used to make table sugar, molasses, rum and ethanol. An extract of sugarcane, called policosanol, is not a sugar but an alcohol-based compound taken from the waxy leaves and stems of the plant. Many studies have concluded that policosanol is effective at reducing "bad" LDL cholesterol levels in your blood while incurring only mild and uncommon side effects. Consult with your doctor before supplementing with policosanol.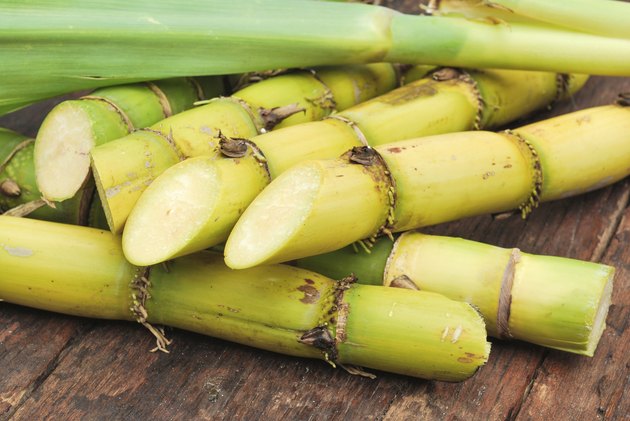 Sugarcane
Raw sugarcane can be chewed to release its sweet juices, which contain mainly fructose and sucrose, but usually it is processed and evaporated into a variety of sweet products that are sold commercially. Although most sugarcane products affect blood sugar levels and can increase the risk of diabetes, dental caries and obesity, they are often considered healthier alternatives to high fructose corn syrup or artificial sweeteners, according to Gordon Wardlaw, author of "Contemporary Nutrition: Functional Approach." Some products derived from sugarcane, such as policosanol, are not sweet at all and display some beneficial health properties.
Policosanol
Policosanol is technically not a sugar, but a collection of long-chain alcohols that are waxy in composition. It contains no carbohydrates and offers no calories, so it doesn't have an adverse effect on your blood sugar levels, as cited in the "Encyclopedia of Human Nutrition." Policosanol is usually taken in attempts to lower blood cholesterol levels, reduce the risk of atherosclerosis, which is narrowing and hardening of arteries, and as an antioxidant. Policosanol does not require a prescription and is widely available online and in health food stores, typically in 10 and 15 mg capsules. Policosanol can also be extracted from wheat germ, yams and beeswax. Ask your doctor about the potential benefits or drawbacks of policosanol extracts.
Health Benefits
Policosanol research was pioneered in Cuba and based on extracts from sugarcane, so there is much less scientific support of policosanol extract from other sources. According to "Natural Standard Herb & Supplement Reference: Evidence-based Clinical Reviews," multiple clinical trials demonstrate that policosanol extracted from sugarcane is effective at lowering overall blood cholesterol and triglycerides while raising levels of "good" HDL cholesterol and protecting against blood clotting. Specifically, policosanol matched or outperformed statin drugs such as Mevacor, Zocor and Pravachol. Further, policosanol helps to reduce the risk of stroke by inhibiting platelet aggregation and abnormal blood clotting. In the studies, researchers observed very few side effects and noted that policosanol does not seriously interfere with your body's ability to produce co-enzyme Q10 as the statin drugs do.
Side Effects
Most of the studies conducted on policosanol used dosages of 10 mg daily and found that 20 mg doses didn't appear to offer any additional benefits. Side effects from the studies were not common but included weight loss, headaches, dizziness, upset stomach and insomnia, as cited by the "PDR for Herbal Supplements." You might not consider weight loss as a negative side effect, but in seriously ill people it can be dangerous. Because policosanol can "thin" your blood, it shouldn't be taken with other blood-thinning drugs or supplements. Consult with your doctor about all your options for combating high blood cholesterol.