Sugar cane juice is made by crushing the fibrous insides of sugar cane stalks. This releases the natural sap of the plant, which is then filtered for impurities and drunk as is. Sugar cane juice is drunk around the world, although it is most common in Central and South America and Southeast Asia. Sugar cane juice is naturally sweet and high in calories.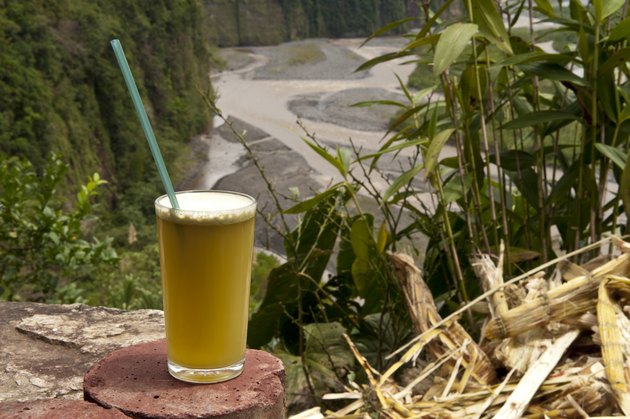 Calories and Sugar
An 8-ounce serving of raw sugar cane juice -- meaning it contains no additives -- has roughly 180 calories. It contains no fat, but it has 30 grams of sugars, all from the sugar cane itself. However, while the sugar in sugar cane juice is technically natural, because the juice has had all dietary fiber removed from it, it is essentially dissolved cane sugar. Because of this, you should consider the sugar in sugar cane juice to be similar to added sugar. The American Heart Association recommends you limit your added sugar intake to 6 to 9 tablespoons per day as high sugar consumption increases your chances of obesity and weight gain.
Rich in Fiber
Raw sugar cane juice contains 13 grams of dietary fiber per serving, which is 52 percent of the daily value of fiber. According to the University of Maryland Medical Center, the majority of Americans only eat 10 to 15 grams of fiber per day, while the recommended intake is between 20 and 35 grams per day. A diet high in fiber can not only prevent or reduce the symptoms of constipation, it can also reduce your risk of heart disease.
Contains Natural Antioxidants
Sugar cane juice is naturally rich in antioxidants, namely polyphenols. Polyphenols are a class of phytonutrient that provides protection to your body's cells by defending them against free radicals and toxins found in the environment. A study published in 2014 in "Food Chemistry" found that while antioxidant levels varied in different varieties of sugar cane, all varieties showed high levels of antioxidants. However, the high heat of processing can destroy some antioxidants, so different varieties of sugar cane juice may contain varying quantities of antioxidants.
Using Sugar Cane Juice
You can drink sugar cane juice as a naturally refreshing beverage -- it can be purchased in cans or bottles at ethnic and health food stores -- or use it in cooking. The natural richness and sweetness of the liquid makes for a rich base for soups and stews, especially in Asian cooking. You can also use sugar cane juice in place of other liquids in coconut-based dishes, where it will help provide depth of flavor, acting as a counterpoint to the taste of coconut.