Whey protein is a protein source derived from milk and sold as a powder. This protein is particularly appealing because it is highly bioavailable, meaning the body uses it while creating minimal wastes. If you have trouble getting enough protein in your daily diet or are very physically active and need a fast way to incorporate protein into your daily intake, blending a whey protein shake can help. You can enhance flavor by adding a variety of fresh fruits you enjoy.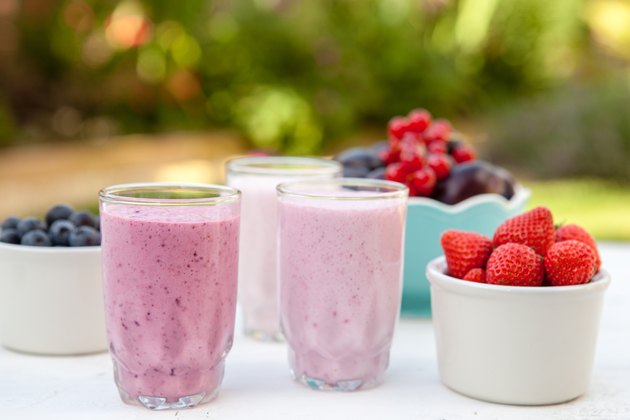 Step 1
Measure one scoop of whey protein powder and add to blender. Whey protein powders are available in a variety of flavors, including strawberry, chocolate and vanilla. Since you will be combining the powder with fruit, consider combinations like strawberry protein powder and bananas or a blueberry and vanilla protein powder shake.
Step 2
Wash desired fruits and slice into smaller pieces, if necessary. The fruits you choose can depend upon your individual tastes. Some examples of fruits to include can be papaya, blueberries, strawberries, peaches and kiwi.
Step 3
Add 1/2 cup of fluid choices such as low-fat milk or water. Milk is a good choice if your whey protein shake will be consumed post-workout because it contains carbohydrates, which can be a good energy source.
Step 4
Add 1/2 cup of ice if you desire the shake to have an iced effect. Blend until you achieve your desired consistency and pour into a chilled glass.
Things You'll Need
One scoop whey protein powder

One cup fruits of your choice

1/2 cup water/Fat-free milk

1/2 cup ice, if desired
Tip
Playing with flavor combinations can make whey protein shakes a versatile option for meals and/or snacks. Check your local grocery or farmer's market for fresh produce. As a means to add flavor into your smoothies, you can also add 100-percent fruit juices like apple or orange juice.
Warning
Your body can only absorb so much protein in one sitting -- the rest is released via your urine. Most people can digest between 20 and 40g from one sitting, according to "Muscle & Fitness Hers." While the amount you can digest varies based on your activity level and body weight, you do not need to blend whey protein in excess of 40g because the body likely will be unable to digest it.