Have you ever tried chicken gizzards stewed in sour cream, curry chicken gizzards or pickled gizzards? If not, you're missing out on key nutrients that support health and well-being. Also known as the gigerium or ventriculus, the gizzard is a small muscular organ found in the digestive tract of some birds and fish. Like other organ meats, chicken and turkey gizzards are loaded with protein and taste amazing when cooked the right way.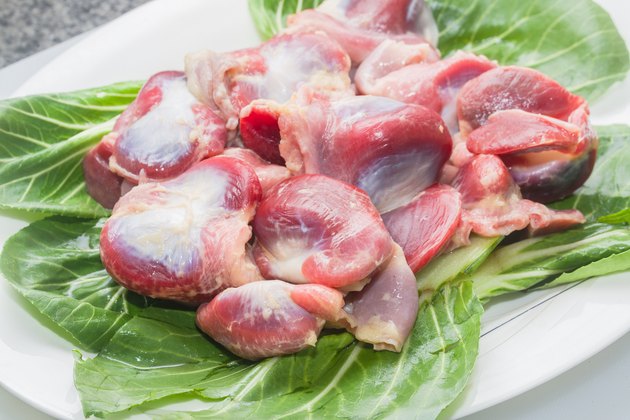 What Are Gizzards?
Search for "chicken intestine benefits" or "organ meat benefits" online and you'll see the word gizzard mentioned on health and nutrition blogs. This term refers to a tiny muscle that helps birds digest seeds and other foods. It's part of the bird's stomach and helps with food breakdown. All birds, including ducks, lambs, chickens and turkeys, have a gizzard.
Poultry and turkey gizzards are a delicacy in South Africa, Southeast Asia, Eastern Europe and other parts of the world. Along with chicken liver, hearts and kidneys, they're used in a multitude of dishes, from soups and stews to homemade snacks. You can fry, steam, sauté, grill or bake them, put them on skewers or add them to gravy and sauces.
Gizzard Nutritional Value
94 calories
17.7 grams of protein
2.1 grams of fat
18 percent of the DV (daily value) of zinc
14 percent of the DV of iron
36 percent of the DV of selenium
15 percent of the DV of phosphorus
7 percent of the DV of potassium
20 percent of the DV of vitamin B12
18 percent of the DV of niacin
Gizzards are also a good source of vitamin C, riboflavin, magnesium, copper and manganese. Plus, they're carb free and have less than 100 calories per serving. The same amount of simmered gizzards boasts 154 calories, 30 grams of protein, 2.7 grams of fat and larger doses of selenium, zinc, iron and calcium. If you cook them with oil or butter, the calories will add up.
Chicken liver, by comparison, is slighter higher in fat but packs more nutrients. A 3.5-ounce serving (cooked) has 167 calories, 6.5 grams of fat and 24.5 grams of protein. It boasts a whopping 267 percent of the daily recommended amount of vitamin A, almost half of the daily recommended amount of vitamin C and large amounts of selenium, copper and iron. Plus, it provides 281 percent of the daily recommended intake of vitamin B12.
Are Gizzards Really Healthy?
Get Leaner and Build Mass
Boost Your Energy Naturally
If you're feeling tired and worn out, iron deficiency might be the culprit. This mineral supports cellular health, boosts immune function and helps deliver oxygen to your muscles. A diet low in iron may lead to anemia, which causes weakness and fatigue, brittle nails, headaches, arrhythmia, poor mental focus, chest pain and irregular heartbeat, among other symptoms.
One serving of gizzards provides 18 percent of the daily recommended iron intake, making it easier to get this mineral in your diet. It also boasts large doses of zinc, magnesium, B-complex vitamins and other nutrients that keep your body functioning optimally. Low vitamin B12 levels, for example, may cause anemia and fatigue. Consider eating organ meats more often to prevent nutrient deficiencies and restore your energy.