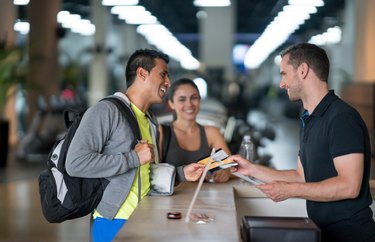 Injury, illness, school, a busy time at work and other personal issues are all reasons why you may not have time to work out for a short time. If you are not using your LA Fitness membership, the LA Fitness cancellation policy gives you the option of freezing your membership for a small fee with no questions asked. This allows you to avoid another initiation fee when you are ready to start working out again.
Tip
Select the "Freeze" option from inside your online membership area to suspend your LA Fitness account. The fees during the freeze vary depending on your membership type.
Benefits of a Gym Membership
Joining a gym has been shown to increase physical activity levels and may help you reach the goals set in the U.S. Department of Health and Human Services' Physical Activity Guidelines for Americans. In a January 2017 study published in PLoS One, researchers found that individuals who belonged to a gym or health club were more likely to work out more regularly and at a higher intensity than individuals who did not have a gym membership.
LA Fitness offers members more than 600 locations across the United States and Canada. Amenities include a heated pool, group classes, basketball and racquetball courts, and personal training.
When joining LA Fitness, you are required to pay the first and last months' dues, along with an initiation fee. Members may have to pay an additional fee to take advantage of some amenities. Membership cost, initiation fees and amenities may vary by location.
How to Freeze Your Account
LA Fitness has a policy that makes it easy for you to freeze your account temporarily if necessary. This option is ideal if you will be unable to use your membership for 30 days or more but still plan to return to LA Fitness. Members who pay weekly dues are not eligible for this benefit.
Simply log in to your account online at lafitness.com. Once logged in, you can select the "Freeze" option on the right side of the screen to suspend your account. When you are ready to reactivate your account, you can do so by again logging in to your membership area.
Some fees may apply, and LA Fitness may change the fees and terms. As of 2019, members who pay dues monthly can suspend their account for $10 per month. Members who pay bi-weekly pay $5 per billing period. You can suspend your child's Kids Klub membership at no cost.
LA Fitness Cancellation Policy
If you decide not to return to the gym, LA Fitness cancellation policy requires you to print out a cancellation form and mail it to LA Fitness or drop it off with the operations manager at your local club. You will find this form on the right side of the screen after you log in to your online account. Submit your form at least five days before your next billing date to avoid additional charges. You also have the option to move your membership to a new club location.