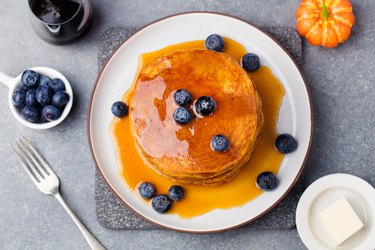 A breakfast staple, pancakes can be made dairy-free with no milk. What can you substitute for milk in pancakes? There are a number of alternatives you can use, such as almond milk or coconut milk. Or you can just use water.
Pancake Recipe Without Milk
Good news for those with lactose intolerance: You can make pancakes without milk. This LIVESTRONG.com recipe for 4-Ingredient Banana Pancakes, for example, requires only one ripe banana, two large eggs, 1/2 teaspoon of baking powder and 1/2 cup of quick-cooking rolled oats:
Heat a medium-sized pan on the stove.

Coat the pan with nonstick cooking spray or a small amount of butter or oil.

Blend the banana, eggs, oats and baking powder until smooth.

Pour the mixture into small pancake rings in the heated pan.

When the batter starts to bubble, flip the pancakes.
When the pancakes are done, serve them with your choice of toppings, including powdered sugar, cinnamon, maple syrup or berries.

Note that in addition to being lactose free, this recipe can also be made completely gluten free if you use gluten-free rolled oats.
Milk Alternatives in Pancake Recipes
You'll need these ingredients:
3/4 cup unsweetened coconut milk

1 tablespoon chia seeds

1/2 teaspoon pure vanilla extract

1 1/4 cups frozen raspberries

1/2 teaspoon balsamic vinegar

2 tablespoons coconut nectar

1/2 cup whole-wheat flour

2 tablespoons unsweetened cocoa powder

1 1/4 teaspoons baking powder

1/4 teaspoon salt

Cooking spray

Combine coconut milk, chia seeds and vanilla extract. Set aside for 15 minutes, stirring once or twice.

In a small bowl, mash together the raspberries, vinegar and 1/2 tablespoon of coconut nectar. Set aside.

In another larger bowl, stir together the cocoa powder, baking powder, flour, salt and the remaining 1 1/2 tablespoons of coconut nectar sweetener. Add the chia seed mixture and stir or whisk to combine.

Spray a nonstick or cast-iron skillet with cooking spray and heat on medium.

Ladle 1/3 cup of batter into the skillet for each pancake and flip when the batter begins to bubble, cooking until lightly browned.

Serve with the smashed raspberry topping.

Substitute for Buttermilk in Pancakes
Yes, there's a dairy-free substitute for buttermilk too! According to the Asthma and Allergy Foundation of America, you can add 1 tablespoon of lemon juice or vinegar to 1 cup of nondairy milk, such as soy or coconut milk, and let the mixture stand for about 10 minutes or until it begins to curdle.
To use this as a buttermilk substitute in any buttermilk pancake recipe, all you have to do is mix the ingredients together as directed and then cook your pancakes in a lightly oiled skillet. When bubbles begin to form, simply flip the pancakes.