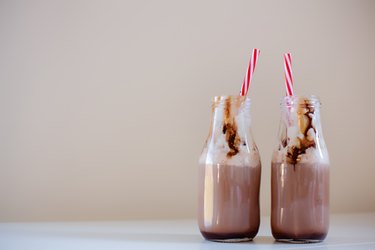 Children worldwide are familiar with the rich, delicious taste of Ovaltine. This popular malted milk drink mix has been around since the early 1900s. Today, it's just as popular as it was decades ago. But does it really live up to the claims? Is Ovaltine healthy for toddlers or is it just candy in disguise?
Tip
Mix Ovaltine with coconut, almond, soy or rice milk to boost its nutritional value. Use it in your favorite desserts for extra flavor.
Ovaltine is a malt mix for preparing hot or cold beverages. The original formula was made with milk, eggs, malt and cocoa. Several other versions have been developed over the years, including Ovaltine Classic Malt, Rich Chocolate Mix and Chocolate Malt Mix. Customers can also purchase egg-free Ovaltine in the U.K. and India.
This popular beverage is marketed as a source of vitamins and minerals. It contains no artificial sweeteners or synthetic flavors, tastes amazing and can be served before bedtime without affecting your sleep. In fact, Ovaltine has long been considered a natural sleep aid for children, thanks to its ​high magnesium levels​.
According to a 2018 study published in the journal Nutrients, magnesium may help relieve insomnia symptoms and reduce daytime sleepiness in women. It also promotes better sleep and regulates energy production. Another study, which appeared in the journal Advances in Nutrition in 2016, suggests that ​malted milk beverages may help increase total sleep time in older adults​. Therefore, Ovaltine could help you get more shut-eye, depending on your age and sleep patterns.
Ovaltine Nutritional Value
Ovaltine is promoted as a healthy beverage for children and grownups alike. Low in calories and fat, this drink fits into most diets and provides essential nutrients that support overall health. Its nutritional value, though, depends on what you mix it with. One serving of ​Ovaltine Chocolate Malt Mix​ (2 tablespoons) contains:
40 calories
9 grams of carbohydrates
8 grams of sugars
10 percent of the DV (daily value) of calcium
10 percent of the DV of zinc
10 percent of the DV of iron
6 percent of the DV of magnesium
10 percent of the DV of vitamin A
10 percent of the DV of vitamin C
10 percent of the DV of vitamin D
10 percent of the DV of vitamin E
​Ovaltine Classic Malt​ contains 60 calories, 12 grams of carbs, 1 gram of protein and less than 1 gram of fat per serving. It also provides higher amounts of vitamin A, vitamin C and calcium. ​Ovaltine Rich Chocolate Mix​ has 40 calories and 10 grams of carbs.
If you add milk, you'll get more protein. One cup of low-fat milk, for example, has 105 calories, 12.2 grams of carbs, 2.4 grams of fat and 8.5 grams of protein. You can also mix Ovaltine with almond, soy or coconut milk to increase its nutritional value. Use it in homemade milkshakes, banana smoothies, sugar-free cookies, brownies, walnut bread, yogurt and pancakes for extra flavor.
Is Ovaltine Good for You?
This beverage provides a balanced mix of vitamins and minerals. ​Zinc​, for example, regulates more than 300 enzymes in the human body, according to a 2018 research paper published in Oxidative Medicine and Cellular Longevity. It fights oxidative stress, supports immune function and protects against age-related neurodegenerative disorders.
About 15 percent of people worldwide don't get enough zinc in their diets, so drinking a beverage like Ovaltine may help prevent deficiencies.
Ovaltine is also a good source of ​calcium and vitamin D​. These nutrients work synergistically to keep your bones strong. ​Vitamins A, C and E​ fight oxidative damage, support bone health and slow down aging.
Considering these facts, it's fair to say that Ovaltine can be a healthy addition to your diet. The downside is that it contains added sugars. The American Heart Association recommends that women and children limit their daily sugar intake to 25 grams. If you're a man, try not to exceed 36 grams of sugar per day. This sneaky ingredient puts you at risk for diabetes, weight gain, insulin resistance, heart disease and metabolic syndrome.
Warning
Ovaltine is quite high in sugar, so drink it in moderation.
Drinking a cup or two of Ovaltine every now and then is unlikely to cause any harm. However, if you have overweight or have diabetes, there are better options available: Mix raw cacao, stevia and low-fat milk or hot water to make your own chocolate drink. Add vanilla, cinnamon, citrus extract or a pinch of nutmeg to enhance its flavor.