Immunocal is a natural health supplement produced by a company called Immunotech that contains a complete protein, which means that it supplies all of the amino acids your body needs to operate efficiently. The touted benefits of Immunocal are primarily attributed to the fact that it is a rich source of the amino acid cysteine. According to the University of Maryland Medical Center, cysteine is converted into a powerful antioxidant called glutathione. Immunocal is sold as a powder and can be mixed in with liquids such as orange juice or water. Immunotech recommends using a slow-speed mixer or stirring the product by hand to reduce the risk of breaking the fragile protein bonds and lowering the efficacy of the supplement.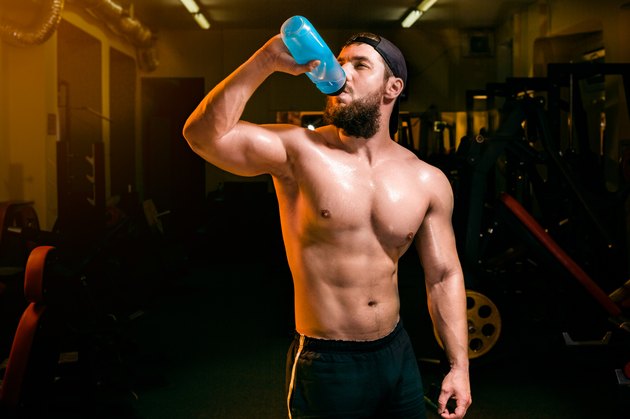 Antioxidant Role of Glutathione
Exposure to environmental toxins and ultraviolet radiation can produce damaging substances in the body called free radicals. Free radicals also occur naturally as byproducts of biochemical reactions. These cells are missing necessary molecules and attempt to repair themselves by stealing these molecules from healthy cells, creating more free radicals. This chain reaction may lead to chronic diseases such as cancer. Antioxidants are substances that slow, prevent or even reverse damage from free radicals. Glutathione is an intracellular antioxidant, which means that it is created and held within individual cells to provide them with protection. Glutathione also controls and promotes the functions of other potent antioxidants such as vitamins C and E. The protective role of glutathione is also extended to detoxifying foreign compounds and cancer-causing substances.
Immune Support
Glutathione also allows the immune system to function more efficiently by increasing the activity and production rate of lymphocytes. These immune cells produce chemical messengers called cytokines, which control the overall immune response. Additionally, glutathione enhances the activity of both T and NK cells, which are responsible for killing foreign invaders. The application of these benefits was demonstrated in a 2008 study published in the medical journal "Microbial Pathogenesis." Researchers at the New Jersey Medical School found that tuberculosis patients treated with cysteine were able to repress the infection.
Other Potential Benefits
The functions of glutathione extend into numerous other metabolic and biochemical reactions. The antioxidant can improve DNA repair and synthesis as well as protein synthesis, both of which contribute to muscle recovery. Glutathione also improves amino acid transport and enzyme activation. This wide range of actions allows glutathione to positively affect the immune system, the nervous system, the gastrointestinal system and the lungs.
Immunocal Use and Efficacy
The body has the ability to create enough cysteine to meet its needs and most high-protein foods contain adequate amounts for healthy people. Foods that provide cysteine include cottage cheese, oats, yogurt and chicken. Age, disease and stress, however, can lower the body's ability to convert cysteine into glutathione and supplementation may be necessary. Conditions that are related to glutathione deficiencies include HIV, cancer, hepatitis, Alzheimer's, Parkinsons and asthma. Immunocal provides a large dose of bioavailable cysteine that is easily absorbed and metabolized by the body, according to Drugs.com. A study published in 2000 in the journal "Nutrition and Cancer" found that Immunocal enhanced the activity of anti-cancer drugs in laboratory tests.
Warnings and Side Effects
Immunotech warns that people with an allergy to milk proteins and those undergoing immunosuppresive therapy should not use Immunocal. People following a protein-restricted diet will need to calculate the 9 g of protein provided by each pouch of Immunocal. Abdominal cramps and bloating are occasional side effects and a rash is possible, but rare. If a rash occurs, discontinue use of the product immediately. Large doses, exceeding 7 g, of cysteine can be toxic. Always consult your doctor before you begin to use any supplement.